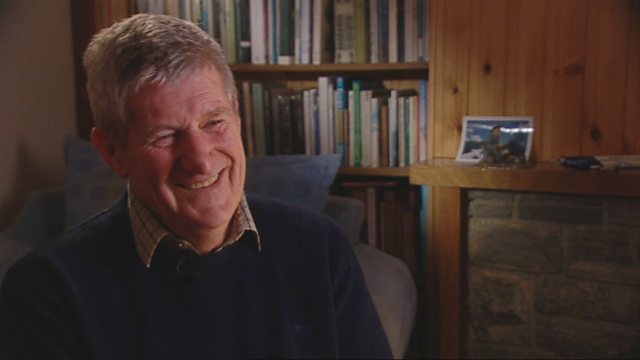 A' comharrachadh gu bheil an sgrìobhaiche Tormod Caimbeul air ceann-là mòr a chuir seachad, tha e fhèin agus Maureen Nicleòid a-nis a' cur cuairt air baile Dhun Èidinn, far na chuir e seachad ùine ag obair agus ag ionnsachadh sna 60an.
Tha e a' dèanamh dealbh air an taigh far a robh e fhèin agus balaich eile bhon taigh a' fuireach agus mar a chuir e eòlas air fear à Obair Dheathainn a bha san aon rùm ris a bha na phoileas an Dun Èideann. Dh'ionnsaich Tormod tòrr bhuaidhe mu dhaoine a chuir e gu feum a' dealbhachadh charactaran sna nobhailean agus na sgeulachdan aige as deidh sin.
Bha Tormod ag obair aig a' rèile aig an àm sin agus cha bheag na sgeulachdan a th'aige mu obair agus mu na bha tachairt dha fhèin agus balaich Leòdhais nuair a gheibheadh iad cruinn.
This is a series of 8 programmes celebrating the Gaelic writer Norman Campbell ( Tormod a' Bhocsair ) 's 70th birthday on 7th October 2012. In the fifth programme, presented by Maureen Macleod, she and Norman begin the first of four programmes recorded on location in Edinburgh recalling Norman's time there in the 60s.
They begin on Calton Hill where he tells of how he began working on the railway in Edinburgh in the early 60s. He lodged at Royal Crescent where he and other friends from Lewis shared the digs along with a policeman from Aberdeen with whom Norman shared a room. He educated him on city life and gave him plenty of material on which to base his future characters in his novels. Norman enjoyed working on the railway and meeting people and describes some of the characters he met.
Last on