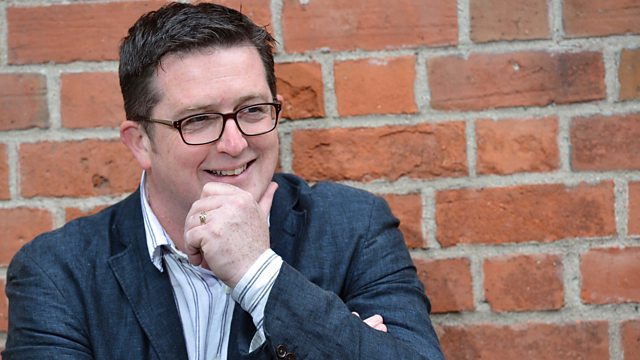 03/11/2012
Join John Toal for big interviews, fascinating people and great craic, plus the best in home-cooked food with recipes from kitchen queen Paula McIntyre. Including News.
Last on
Bacon Rib Hotpot with Peas & Potatoes, Onion & Cheese Griddle Muffins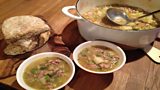 1kg bacon ribs, cut into 3 pieces
1 carrot, peeled and chopped into 2cm dice
2 sticks celery, peeled and chopped into 4 pieces each
4 small onions, peeled and quartered
25g butter
200g marrowfat peas soaked in cold water overnight
4 medium potatoes, peeled and diced
Handful chopped parsley
Place the bacon ribs in a pan of cold water, bring to the boil and strain.
Cook the carrots, celery and onion in the butter in a casserole until golden.
Add the ribs and cover with water.
Place in a 160oc oven for 2 hours.
Drain the peas and add to the casserole.
Return for 15 minutes
Add the diced potatoes and return until soft - about 30 minutes.
Check seasoning and add the parsley.
Onion & Cheese Griddle Muffins
250g Strong Bread Flour
200g Strong Brown Bread Flour
1 egg
250 ml Milk
50g Chopped butter
1 Sachet Of Yeast
1/2 Teaspoon of Salt
1 Small Onion, Peeled And Chopped and Fried In Rapeseed Oil Until Soft And Golden
50g Grated Cheddar
1 teaspoon Of Sugar
Mix the flour, Yeast, Sugar & Salt In a Bowl.
Warm the Milk & Butter Together.
Leave Until Blood Temperature - When You Dip Your Finger In You Don't Feel Any Difference. Too Hot and it will kill the Yeast.
Mix the Cold Onion Mixture into the Milk and Butter with the egg and add to the dry Ingredients with the Cheese.
Mix to a loose dough and turn onto a floured Surface and knead for 5 minutes.
Place in a bowl and cover with Cling or a damp Tea towel and leave For an hour.
Knock back the dough with your Fist. Roll on a lightly floured surface to 1cm Thick,
Cut Into Shapes and leave on a Floured Tray for 30 minutes.
Cook On a Griddle over medium heat For about 5 Minutes each side or until they sound hollow when tapped.
Cool On A Wire Rack.