Financial Services
The view from the top of business. Presented by Evan Davis, The Bottom Line cuts through confusion, statistics and spin to present a clearer view of the business world, through discussion with people running leading and emerging companies.
Evan and his guests discuss financial services. They have the power to enrich an economy - or to ruin it completely. But what kind of makeover do they need to get them fit for the 21st century? Should the industry be more innovative and clever - or just a bit more old-fashioned and simple?
Joining Evan in the studio are former fund manager David Pitt-Watson; Martin Gilbert, chief executive of Aberdeen Asset Management; Richard Ward, chief executive of insurance market Lloyd's of London.
Producer: Ben Carter
Editor: Innes Bowen.
Last on
Evan Davis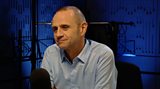 David Pitt-Watson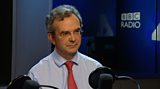 Former fund manager, David Pitt-Watson