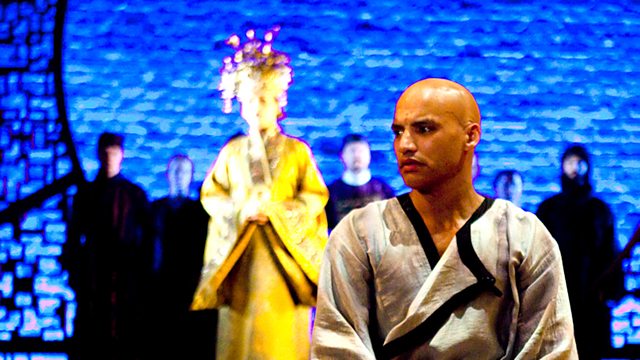 Jeff Wayne; The Orphan of Zhao
Listen in pop-out player
With Kirsty Lang.
Jeff Wayne has made a new version of his 1978 hit album The War Of The Worlds, now starring Liam Neeson as the narrator, stepping into Richard Burton's shoes - with Ricky Wilson, Gary Barlow and Joss Stone taking on the roles sung originally by David Essex, Justin Hayward and Julie Covington. Jeff Wayne reflects on the original appeal of HG Wells' story, and the aspects of the show he has now changed.
Gregory Doran's first production since taking over as Artistic Director of the Royal Shakespeare Company is a Chinese play called The Orphan of Zhao - which dates from 4th Century BC and has been described as the Chinese Hamlet. The production generated some debate, covered on Front Row, as the cast includes few Asian actors. Front Row sent critic Andrew Dickson to see the play, as it takes to the stage.
Crime Stories is a new daily TV drama, which follows two detectives as they spend their day in a police station talking to witnesses and suspects connected to a particular crime. The dialogue is part-improvised, and one of officers is played by a retired real-life policewoman, making her acting debut. Crime writer NJ Cooper reviews.
Five pianos - stripped bare and hanging above pools of water - play themselves while the voices of people such as William S Burroughs and Malcolm X echo within a vast concrete hall. This is Stifter's Dinge, a composition by German composer Heiner Goebbels, inspired by the Austrian author, painter, and poet Adalbert Stifter. Jeremy Summerly of the Royal Academy Of Music shares his impressions of his encounter with the work.
Producer Rebecca Nicholson.
Last on