Oxford University historian Jonathan Healey, one of Radio 3's New Generation Thinkers, gives a talk questioning the value of lessons from history.
Healey claims that lessons drawn from the past and applied to our own world are meaningless, despite what we are told by best-selling historians and television documentaries. It is precisely because the past is so foreign that we are able to understand what is so unique about today.
The Radio 3 Free Thinking Festival takes place at The Sage Gateshead Friday 2 - Sunday 4 November and is broadcast for three weeks on Radio 3 from Friday 2 November.
The New Generation Thinkers are winners of a talent scheme run by BBC Radio 3 and the Arts and Humanities Research Council to find the brightest academic minds in the arts and humanities with the potential to turn their ideas into broadcasts.
Last on
Free Thinking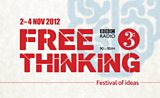 Find out more information and the line-up of guests for Free Thinking 2012.
CLICK to LISTEN & SEE all programmes, images, clips & features from this year's festival