Lee Hall
An audience with Lee Hall, writer of Billy Elliot and The Pitmen Painters, recorded at The Sage Gateshead as part of the Radio 3 Free Thinking Festival.
The Newcastle born screenwriter and playwright Lee Hall is best known for the hugely successful film and musical Billy Elliot, for which he won a Tony Award and was nominated for an Oscar.
Hall's play The Pitmen Painters, about a group of miners from Ashington in the North East, has been performed throughout the world. He recently updated Alan Plater's 1960s musical drama Close the Coalhouse Door and is now working on a biopic of Elton John.
From a working-class background, much a Hall's work explores the complexities of what class means in the UK. At Free Thinking 2012 Lee Hall discusses class and art, his own life, writing and ideas.
The event is chaired by Night Waves presenter Philip Dodd and recorded as part of Radio 3's Free Thinking Festival 2012.
The Free Thinking festival of ideas takes place at The Sage Gateshead Friday 2 - Sunday 4 November and is broadcast for three weeks on Radio 3 from Friday 2 November.
Last on
Free Thinking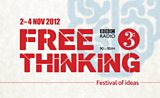 Find out more information and the line-up of guests for Free Thinking 2012.