Charlotte Blease, one of Radio 3's New Generation Thinkers, gives a talk that questions the relationship between doctors and patients, recorded at Radio 3's Free Thinking Festival.
We trust the 36,000 GPs in this country to work out what is wrong with us. But how much of what they do is guesswork?
In her talk titled "The Medicine Game", philosopher of medicine Charlotte Blease of Queen's University Belfast argues that the relationship between doctors and patients is built on a phoney image of medicine, and instead diagnosis involves playing the "medicine game".
The Radio 3 Free Thinking Festival takes place at The Sage Gateshead Friday 2 - Sunday 4 November and is broadcast for three weeks on Radio 3 from Friday 2 November.
The New Generation Thinkers are winners of a talent scheme run by BBC Radio 3 and the Arts and Humanities Research Council to find the brightest academic minds in the arts and humanities with the potential to turn their ideas into broadcasts.
Last on
More episodes
Previous
You are at the first episode
Free Thinking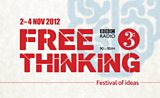 Find out more information and the line-up of guests for Free Thinking 2012.
The Speed of Life: Free Thinking Festival 2017
Four artworks that explore what it meant to be Black and British in the 1980s