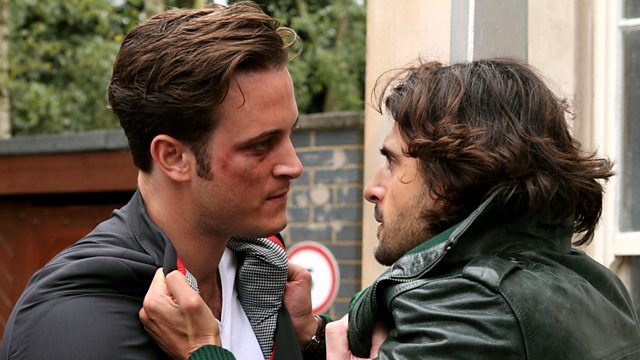 02/11/2012
When Christian's arrested for assault. Syed protests they've got it wrong. At the police station, he finds a bruised Danny who reveals Christian wasn't attacked – he lashed out first when Danny exposed the truth about him and Syed. Syed begs Danny to drop the charges; Danny wants his £500. AJ pleads for Masood's help. Masood initially refuses but arrives at the Arches in time to confront Danny with AJ, Tamwar and Syed. Masood calls Danny's bluff on the "failed" investment, threatening he'll go to prison for fraud. Syed's grateful. The charges are dropped, Christian's released. Christian won't let a grubby fumble ruin their marriage, but demands Syed tell him Danny's wrong and that he loves him - or it's over.
Sharon gathers belongings to leave at Phil's to look like a legitimate couple. Jack plans a weekend away, bemused by Phil and Billy's interest. Lola reveals Sharon and Phil's arrangement, Jack's furious. When Sharon backs out, Jack relents but warns Phil he's watching him.
Lauren tells Tanya she doesn't want Joey living with them. Joey packs his things. Lauren apologises for kissing him. Joey explains he only stopped because she was drunk. They kiss again, Lauren pushes Joey away. Joey insists it doesn't feel wrong. Lauren's quiet, but tells Max Joey isn't leaving.
Carol guilt trips Ian about work in the café. At Carol's insistence, Max offers to make Derek head usher. Derek's unimpressed and goads Jack about Sharon and Phil. Carol warns them to make up before she returns with Bianca.
Kat perseveres with Tommy's sleep training. Roxy's annoyed when Kat claims she's too exhausted to work then sits with Kim and the Branning brothers in the pub. Kat insists 'Your Song' is her and Alfie's track but Alfie's clueless.
Kim makes her B&B guests sick after serving uncooked sausage.
Last on
Credits
| Role | Contributor |
| --- | --- |
| Christian Clarke | John Partridge |
| Syed Masood | Marc Elliott |
| Danny Pennant | Gary Lucy |
| Masood Ahmed | Nitin Ganatra |
| AJ Ahmed | Phaldut Sharma |
| Tamwar Masood | Himesh Patel |
| Phil Mitchell | Steve McFadden |
| Sharon Rickman | Letitia Dean |
| Jack Branning | Scott Maslen |
| Max Branning | Jake Wood |
| Tanya Cross | Jo Joyner |
| Lauren Branning | Jacqueline Jossa |
| Joey Branning | David Witts |
| Derek Branning | Jamie Foreman |
| Carol Jackson | Lindsey Coulson |
| Ian Beale | Adam Woodyatt |
| Kat Moon | Jessie Wallace |
| Alfie Moon | Shane Richie |
| Kim Fox | Tameka Empson |
| Roxy Mitchell | Rita Simons |
| Billy Mitchell | Perry Fenwick |
| Lola Pearce | Danielle Harold |
| PC Lomax | Ayden Callaghan |
| Executive Producer | Lorraine Newman |
| Director | Clive Arnold |
| Writer | Colin Wyatt |