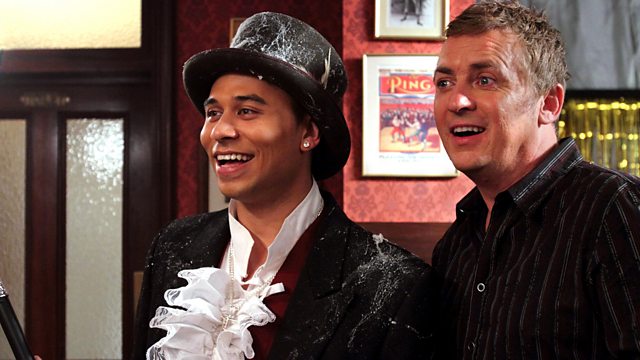 30/10/2012
Roxy invites Christian and Syed to the Vic Halloween party. Syed gets a text from Danny, who waits for Christian to leave the flat, then demands £500. Later, Roxy greets Danny in the Vic and informs Christian. Furious, he confronts Syed; Syed admits he's in debt but insists they ignore Danny. Christian reads another text from Danny on Syed's phone and tricks Danny into meeting him in the boxing gym. Christian warns Danny off, Danny reveals he and Syed shared much more than a kiss and jeers Syed will always want more than Christian. Christian punches him. Later, Syed searches for Christian and spots him approaching the flat. Christian turns, his face a bruised and bloody mess.
Lucy's hurt that Joey won't help during a meeting with the bank's relationship manager, but refuses Ian's advice. Joey tells Lauren he's breaking up with Lucy. Later, Lauren mistakenly comforts Lucy about Joey. Lucy's devastated and lets Ian support her through her meeting with the bank manager. Lucy packs Joey's bags then pleads he stays. Joey goes anyway.
Phil's evasive when Lola questions him about the residency application. Abi and Jay convince Lola to come trick or treating and sneak into the Vic dressed as ghosts. Later, Phil explains he put Sharon on the residency application so they'd appear a secure family unit.
Kat's irritable after a night awake with Tommy who won't sleep in his own room, but determines she and Alfie will have quality time together.
Fatboy gives tours of Walford dressed as a ghost hunter, hindered by inquisitive Poppy. Denise dresses as Cat woman for the costume competition. Fatboy's gutted when Denise breaks things off.
Carol loses Tiffany and Morgan after mistaking them for children wearing the same skeleton costumes. Liam finds them trying to talk to Heather's ghost at her old flat.
Last on
Credits
| Role | Contributor |
| --- | --- |
| Christian Clarke | John Partridge |
| Syed Masood | Marc Elliott |
| Danny Pennant | Gary Lucy |
| Kat Moon | Jessie Wallace |
| Alfie Moon | Shane Richie |
| Carol Jackson | Lindsey Coulson |
| Ian Beale | Adam Woodyatt |
| Lucy Beale | Hetti Bywater |
| Joey Branning | David Witts |
| Arthur 'Fat Boy' Chubb | Ricky Norwood |
| Denise Fox | Diane Parish |
| Kim Fox | Tameka Empson |
| Roxy Mitchell | Rita Simons |
| Phil Mitchell | Steve McFadden |
| Lola Pearce | Danielle Harold |
| Abi Branning | Lorna Fitzgerald |
| Lauren Branning | Jacqueline Jossa |
| Poppy Meadow | Rachel Bright |
| Liam Butcher | James Forde |
| Tiffany Butcher | Maisie Smith |
| Morgan Butcher | Devon Higgs |
| Executive Producer | Lorraine Newman |
| Director | Clive Arnold |
| Writer | Wendy Granditer |