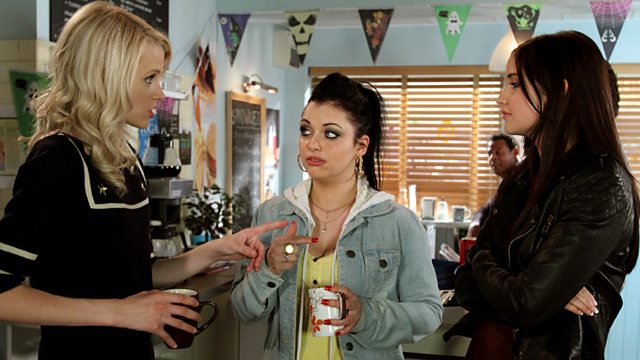 29/10/2012
Carol, Liam, Tiffany and Morgan arrive home for the week. Carol meets Alice. She's furious to find Derek's dodgy goods stashed around the house. Searching for him, Carol encounters Max, Lucy and Jack and learns of Derek's squabbles over being best man, his threats to Lucy and dodgy booze deals. In the Vic, Kat refuses Derek's money as it's a dodgy £20 note; he's outraged. Later, Derek shows Carol all goods have been cleared from the house and sweet-talks her. Carol warns him not to put Bianca at risk. Derek retreats to the garage, now full of boxes of dodgy goods, and places the counterfeit £20 note with a wad of others in a lock box with Carol's letter from David Wicks.
Phil sorts through photo albums and finds a framed photo of him and Sharon. Sharon learns of Phil's plan, and demands he take her off the residency application. Phil claims Lola begged him when Ian backed out. Sharon gives in but soon discovers Lola has no idea of Phil's plan and refuses to have anything to do with it.
After Masood gives up his teaching job for a full time postal round as it pays more, Tamwar crumples up his University application. Syed and Tamwar both try to find work at the job centre. Danny texts Syed. Tamwar accepts Zainab's old job at the Minute Mart.
Lucy's taken Joey back, still smitten. Lauren spots them kissing and confronts Lucy. She's frustrated when Whitney and Lucy are cold with her and lashes out at Joey. Joey apologises for causing trouble and thanks her for freeing him.
Alfie plans a Halloween party in the Vic. Kat's relieved when Mo assumes a red rose left on the bar is for her. Alfie turns to Mo when his Halloween decorations are ruined by leaked beer.
Last on
Credits
| Role | Contributor |
| --- | --- |
| Derek Branning | Jamie Foreman |
| Carol Jackson | Lindsey Coulson |
| Alice Branning | Jasmyn Banks |
| Liam Butcher | James Forde |
| Tiffany Butcher | Maisie Smith |
| Morgan Butcher | Devon Higgs |
| Whitney Dean | Shona McGarty |
| Sharon Rickman | Letitia Dean |
| Phil Mitchell | Steve McFadden |
| Lola Pearce | Danielle Harold |
| Ian Beale | Adam Woodyatt |
| Lucy Beale | Hetti Bywater |
| Joey Branning | David Witts |
| Lauren Branning | Jacqueline Jossa |
| Max Branning | Jake Wood |
| Jack Branning | Scott Maslen |
| Kat Moon | Jessie Wallace |
| Alfie Moon | Shane Richie |
| Mo Harris | Laila Morse |
| Masood Ahmed | Nitin Ganatra |
| Tamwar Masood | Himesh Patel |
| Syed Masood | Marc Elliott |
| Christian Clarke | John Partridge |
| Denise Fox | Diane Parish |
| Executive Producer | Lorraine Newman |
| Director | Clive Arnold |
| Writer | Colin Wyatt |
EastEnders set to tackle stillbirth storyline