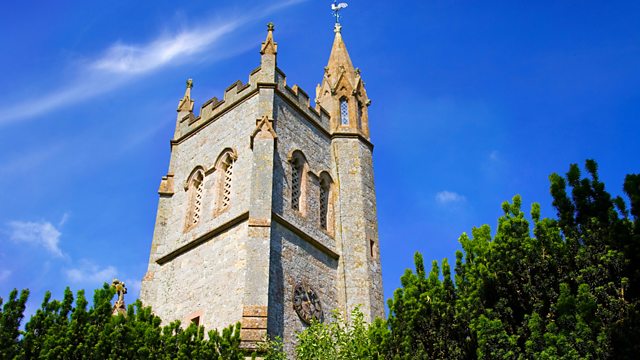 04/11/2012
Remembering Hidden Lives
On All Souls Day, Sunday Worship from St Martin-in-the-Fields explores ideas of memory. There is an awareness that memories are suppressed and also that some people are suppressed in the collective consciousness of church and society. The service reflects on these difficult and sometimes painful realities and how memories might be healed by God and the lost restored.
Leader: the Revd Richard Carter
Preacher: the Revd Dr Sam Wells, the new vicar of St Martin's
The choir of St Martin-in-the-Fields is directed by Andrew Earis and accompanied by Nicholas Wearne.
Last on
Sunday Worship - St Martin-in-the-Fields - 04/11/12
Sunday Worship
Please note:

This script cannot exactly reflect the transmission, as it was prepared before the service was broadcast. It may include editorial notes prepared by the producer, and minor spelling and other errors that were corrected before the radio broadcast.

It may contain gaps to be filled in at the time so that prayers may reflect the needs of the world, and changes may also be made at the last minute for timing reasons, or to reflect current events.
Radio 4 Opening Announcement:.  BBC Radio 4 (Time check).  November marks a period of remembrance and Remembering is explored in this morning's Sunday Worship.  The service is from the church of St Martin-in-the-Fields in London.  It's led by the Revd Richard Carter.
Remembering Hidden lives
Richard Carter
Good morning and welcome to St Martin-in-the-Fields where today we will be celebrating All Saints and All Souls Day.  Our theme today explores ideas of re-membering - remembering hidden lives.  We begin with our first hymn:  "For all the Saints".
HYMN For All the Saints
William W How (1823-1897)
Richard Carter
The standards of sainthood seem quite daunting in the hymn we have just sung  –  strong to live and strong to die - saints on fire with love and burning with a flaming zeal for right' – hard to match up to that. But as Oscar Wilde said,  "Every saint has a past and every sinner a future!"   I've been privileged to have known seven saints - the seven martyrs of the Melanesian Brotherhood who were killed working for peace in 2003 now remembered by the Anglican Church each year - and the thing about them is they are friends – the most fallible ordinary men you could ever imagine.  I always think in heaven they must be laughing to see themselves remembered – "What me a saint?  You must be joking!"  And yet it's just this, the lives of the most ordinary, extraordinary human beings who we remember who have lifted eyes to the love of God and excited others to holiness and a nation to peace.
How often it's only after someone has died that you think, "if only I had known that, if only I had spent more time listening..."  I remember putting together the funeral service for someone I knew as Sonia.  It wasn't until her tragic death that I discovered she was a brilliant human rights lawyer working with refugees.  How many questions I would have liked to have asked her about this vital work.  
So often we see someone without really seeing.  "Could you follow what I was saying?"  I once remember asking rather patronisingly after preaching at a convent to very elderly sisters.  "We understood perfectly," came the reply.  "Do you realise there were sixteen former headmistresses in the congregation?"   We can fail to see the treasure beneath the surface.  Even St Paul wrestled with words as he tried to
to explore the deeper mysteries of God.  He wrote,  "Now I know only in part; then I will know fully, even as I am fully known."
Let us pray
God of the spirits of all people
We pray you to give freely to all those who rest in you
the many blessings of your love,
that the good work you have begun in them here
may be finished in the day of Jesus Christ
Kind father in heaven,
May we who now serve you here on earth,
Be found fit at the last
To share with them the life of the saints in light.
ALL
Amen.
CHOIR      Give us the wings of faith      James Whitbourn
Richard Carter
Memories are not only sometimes kept hidden and silent.  They are also suppressed in the collective consciousness of Church and society.  There are lives our collective memory would rather omit or choose not to see.  We block them out.  But in a church we are not able to choose who will walk through the doors, each person who enters challenges us to be open to an encounter with Christ.  Word made flesh disturbs us.   In the story of St Martin it's not the generous soldier and benefactor Martin who shares his cloak who is the Christ figure, it is the beggar.   It is in our own human poverty that God is often most fully disclosed.
One of the people in our church who I have had the privilege of getting to know better in the last year is Gemma:
Gemma Poncia
I was diagnosed with schizophrenia when I was ….. Several months ago I began writing a book of reflections so that my story may help others.
This is one of my reflections:
During one of my worst bouts of depression, all I could do was lie in bed and pray to a God that the depression kept me from fully believing in "Please God, take my life!"  Clearly God didn't want to punish me.  He didn't answer my prayer.
I believe there's a little piece of God in each one of us, in all of God's creation, called our soul.  It's like a candle at the core of our being.  Although in depression it feels like it, God cannot go out.   What do I do when my depression keeps me from believing in God?  At a loss for anything else to do, I began praying the Daily Prayers of the church.  To me these prayers seem steeped in thousands of years of belief in God.  The belief of those who wrote the prayers little by little rubbed off on me.  And part of the office is the psalms.  Prayers that seemed to be written by deeply fallible people – asking God to do their bidding, be their servant instead of us being God's servant.  It seems like there is a psalm for every kind of despair.  Slowly the prayers seem to sink in.  But not for God to hear my prayers, but for me to hear his.
Katherine Hedderly
Reading: Psalm 139  
A reading from Psalm 139
Lord Where can I go then from your spirit?  
Or where can I flee from your presence?
If I climb up to heaven, you are there;
if I make the grave my bed, you are there also.
Even darkness is no darkness with you;
the night is as clear as the day;
darkness and light to you are both alike.
HYMN: Be still my soul
Stille, meine Wille; dein Jesus hilft siegen Katherina A D von Schlegel (born 1697) tr Jane L Borthwick (1813-1897)
Richard Carter
On Thursday next week we'll hold at this church the Commemoration of those who have died homeless in the last year.  Ironically, the list is always painfully long in this, one of the richest capital cities of the world.  Think of the joy of naming a child, think of how Christ taught that each hair of our head is counted by God and then think of this long list of names, each single name a life, made in the image of God.  Lesley asked me, "Why do they call us "the homeless?  I don't call them "the inhousers'.  I mean we're all just people."  Yes just people, people like you and me and like Mada who wrote this poem from his own experience for that commemoration service
(Mada)
Walking  the Pavement
On the road
I am caught inside rivers of cars
Rhythms of wheels,
Crunching bones
My life changes CRUNCH and I fly,
In between white lines…
Where do I belong?
Each blind alleyway has a sign
Saying "Welcome back home"
A home with no walls
A home with nothing to call my own
Hubbub, a cacophony,
A symphony of dead men's clothes that I wear
That I wear to survive.
Me?  I am just chasing pavements
In search of my road
Now quiet I listen
The music in my ear
It's the crunching of bones
In the big gear box of civilisation
One more leap, no more steps
Stop, pause turn…
Did you call me?
But who remembers my name?
Richard Carter
Helen Bamber has spent 60 years of her life working to heal memories and bring them into the light.  The Helen Bamber Foundation  works with survivors of human rights abuses – including genocide, torture and human trafficking.
Helen Bamber
I've spent many years of my life listening to the memories of refugees who've been subject to violence no human beings should ever be subject to. And one of the greatest tragedies is that the suffering does not cease in the country they have fled to for sanctuary - where their memories so often remain unheard or treated with suspicion and disbelief. Many of those victims of torture not only need mental or physical healing but spiritual healing from all that they've suffered.  It's only when I hear them sing that I cry, because it seems to me that their voices express the spirit of our humanity, the longing to be free and that each one of us are much much more than survivors. They can indeed become our teachers.  
Richard Carter
Woven Gold is the music group at the Helen Bamber Foundation, which works with survivors of cruelty, and includes refugees and asylum seekers from Algeria, Burma, Chechnya, Iran, Kurdistan, Pakistan, and from many African countries. This is their song:  "I am more than a survivor."
WOVEN GOLD: Song:  I am more than a survivor
Richard Carter
Our Gospel reading for today is about remembering Jesus, and its read for us by Naomi Walters the Head Girl of St Martin-in-the-Fields High School for Girls.
Naomi Walters
A reading from the gospel according to St Luke, chapter 22 beginning at the 14th verse.
When the hour came, [Jesus] took his place at the table, and the apostles with him.  He said to them, 'I have eagerly desired to eat this Passover with you before I suffer; for I tell you, I will not eat it until it is fulfilled in the kingdom of God.'  Then he took a cup, and after giving thanks he said, 'Take this and divide it among yourselves;  for I tell you that from now on I will not drink of the fruit of the vine until the kingdom of God comes.'  Then he took a loaf of bread, and when he had given thanks, he broke it and gave it to them, saying, 'This is my body, which is given for you.  Do this in remembrance of me.'  And he did the same with the cup after supper, saying, 'This cup that is poured out for you is the new covenant in my blood.
Richard Carter
Our preacher is the new vicar here at St Martin-in-Fields, who joined us in July - Dr  Sam Wells.
Revd Dr Sam Wells
Behind the Scenes
We live our lives by two stories. There's the one we present at interview, when we want to impress people; and there's the other one we tell only to a counsellor, a confessor, or the most trusted friend. The church also lives its life by two stories. There's the story of faith, and courage, and martyrdom, and sacrifice, and perfect love. That's the story we call All Saints. And then there's the story of fragility, and fear, and failure, and foolishness, and forgiveness. That's the story we call All Souls.
Every Christian makes the same mistake. We all think God wants our posh story, our All Saints' story. But the truth is, God wants the real story, the All Souls story. Being a Christian means longing to be a saint – but, in the meantime, offering to God the reality of our soul.
The title of Kate Atkinson's 1995 novel, Behind the Scenes at the Museum, gives a clue to its theme. The novel's a museum, because it's full of memories, mostly about four generations of women in the family of the narrator, Ruby. But it's behind the scenes, because, one by one, elements are reintroduced into the story that've been forgotten, denied, or suppressed. The plot rattles along through post-war British history on a hilarious rollercoaster course, and you're never sure if the intention is simply to evoke rib-tickling laughter. But that leaves you wholly undefended for the moment when suddenly, very near the end, the savage twist clasps you like a stomach cramp, and you're gasping for air.
By this time Ruby's a young adult. Piecing together stray remarks and inexplicable anomalies, she's driven to rummage through the shoebox that contains the family's most precious treasures. In the shoebox Ruby discovers the buried key to her whole existence. She comes upon a birth certificate, and realizes she had a sister, Pearl. Not just a sister – a twin, born on the very same day as she, Ruby. She was born a twin. Ruby and Pearl. And there, to prove it, a locket, with a photo of the two sisters, one on each side. But then, a death certificate, dated four years later. Cause of death: drowning. The precious Pearl had drowned, aged just 4.
Ruby seeks out her mother. In dismay she yells, 'You can't just blot someone out like that. … You can't pretend someone never existed, not talk about them, not look at photographs.' Her mother replies, defensively, 'There were photographs. And we did talk about her. It was you who blotted her out, not us.' But Ruby's outburst has unlocked a chamber in her mother's soul. They open up the locket with the photos of the twins and look at it for a long time in silence. Ruby demands to know, 'Which one? Which one is Pearl?' Her mother points to the one on the left, and says, 'My Pearl. My Pearl,' and begins to weep.
Think of that locket for a moment. On the right is a picture of Ruby – the story Ruby thinks she knows, the story it's easier for everyone to tell. And on the left is a picture of Pearl – the story full of regret, and guilt, and grief, and loss, and sadness – the story no one really wants to tell. Except Pearl, perhaps. And, deep down Ruby and her mother, desperately, achingly, wrenchingly – Ruby and her mother, who can't truly tell any kind of story to one another until they've gone back and told a truthful story about Pearl; the fact that she lived, and the way she died.
Think of that locket as the two stories of the church – on the right All Saints, the story we want to tell, and on the left All Souls, the story of what took place behind the scenes, the story we've suppressed, have forgotten, have denied – but the story God knows, the story God remembers; and the story we have to learn how to tell if we're to stand truthfully before God and be restored in our relationship with one another.
In our service today we've been bringing to mind the left-hand picture in that locket. We've been naming some of the faces and hearing some of the voices our society and our church has tended to forget, tried to suppress, or sought to deny. We've heard from Gemma, speaking of mental illness. We've heard Madda, describing the experience of homelessness. And we've listened to Helen, speaking of the life of refugees and asylum seekers. And we've been mindful of those memories and experiences in ourselves that, like Ruby, we've tried hard to bury behind the scenes in the museum of our own imagination.
Why are such voices integral to our worship? Because when we stand before the throne of grace, as a person, a society, or a church, we can only ask God to redeem that which we bring with us. If we show God just the right hand side of the locket, if we try to tell God just an All Saints story, God will either laugh, or cry.
At the Last Supper Jesus took bread, and broke it, to represent the breaking of his body. And he said, 'Do this, and remember me.' Do this, he said, and re-member. That's our hope. Not that our lives and memories and lockets aren't broken. We know they are.
But that we'll be re-membered in God. That's what resurrection is – God putting all our members back together, going behind the scenes, and literally re-membering us. And so to open our lives to the suppressed, the forgotten, and the denied members of our society and our church is to anticipate heaven, by the same process of re-membering.
The last chapter of Behind the Scenes at the Museum is called 'Redemption.' Ruby's talking to her surviving sister, Patricia. Patricia's trying to encourage her sister to move on. She says, 'The past is what you leave behind in life, Ruby.' Ruby's having none of it. 'Nonsense, Patricia,' she retorts. 'The past is what you take with you.'
And that's the gospel. We're on the left-hand side of God's locket (Pearl's side) but God doesn't suppress us, deny us, forget us, or leave us behind. Broken as we are, God re-members us, and embraces us, and says, 'I'm taking you with me.'
Choir anthem
Agnus Dei  Vaughan Williams
Katherine Hedderly
Agnus Dei, Lamb of God who takes away the sin of the world, have mercy on us and grant us peace.
We pray:
God of light and truth, reveal the treasure of our lives, in acts of faithfulness and love. And open our hearts to see the depth of your love for all that is hidden and hurting.
Sung Response:  Take O Take me as I am
God of compassion and justice, restore with dignity and strength, the hidden lives of those who are cast aside, forgotten or denied.  Help us to re-member your truth within our families, our communities, our nation and our church, so that your truth may set us free.
Sung Response: Take O Take me as I am
God of love, we celebrate the gift of our memories and the lives of those we have loved.  Re-member us.  Restore us in relationship with one another, with ourselves, and with you.  With all your saints, show us how to walk on the earth and sing the song of heaven.
Sung Response: Take O Take me as I am
Richard Carter
A prayer by John Donne
Bring us, O Lord God, at our last awakening, into the house and gate of heaven, to enter into that gate and dwell in that house, where there shall be no darkness nor dazzling, but one equal light; no noise nor silence but one equal music; no fears nor hopes but one equal possession; no ends nor beginnings but one equal eternity; in the habitations of thy Majesty and thy Glory, world without end. Amen.
HYMN How shall I sing that Majesty
John Mason (c1645-1694)
Richard Carter
May the Lord bless you and keep you
May he Lord make his face to shine upon and be gracious to you
May the Lord lift up the light of his countenance upon you and give you peace
My brothers and sisters may the Lord bless you.
Organ voluntary