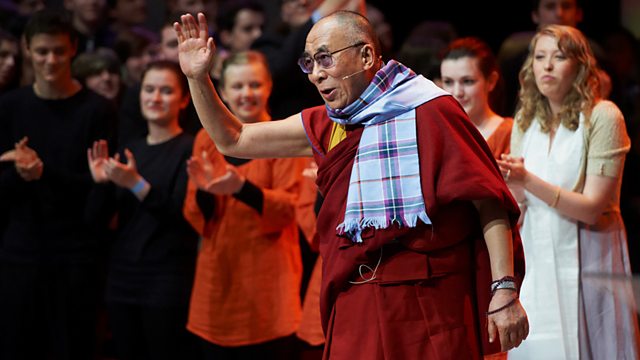 The Highlands of Scotland aren't top choice for most travelling World leaders, but in June 2012 the city of Inverness found a living hero in its midst. An exiled Tibetan Buddhist monk turned globe-trotting man of peace...
Là an Dalai - Dalai Day is a heart warming tribute to the day His Holiness the Dalai Lama came to town, to give one his most intimate ever public talks. The Spiritual leader and former Head of State for Tibet fled to India the 1950s when communist China invaded. He'd longed to visit the Highlands since childhood but had never made it beyond Edinburgh.
We meet the tour organisers as they explore the challenges logistics of transporting a famous holy man and spend time with zen and zany highlanders as they prepare an occasion to remember. From Buddhist ceremonies to a rather unusual dog collar, it's an unexpected and colourful gathering.
An insight into Scotland's growing Buddhist community, the programme it also explores the historic role of the Dalai Lama, whose peaceful appeal for Tibet's cultural and spiritual independence is now supported by millions worldwide, striking a particular note with Scots.
Last on