Humshaugh
Eric Robson chairs the third episode of GQT's North of England tour to mark the programme's 65th anniversary, this week recorded in Humshaugh in Northumberland.
With Anne Swithinbank, Matt Biggs, and Bob Flowerdew on the panel the team take questions from a gardening audience in the same town that the programme visited back in 1947.
Produced by Howard Shannon.
A Somethin' Else production for BBC Radio 4.
Q. How do I achieve a truss of greenhouse grown ripe tomatoes?
A. Tomatoes need starting at the end of January or beginning of February, in a heated propagating case or on a sunny windowsill. Alternatively you can bypass this stage by buying young plants. Less feeding and watering only when necessary will push the plant into producing ripened fruit. Dandelion leaves, banana skins and ripe tomatoes release ethylene, which also encourages ripening.
Q. Last year I planted an asparagus bed with one-year-old plants, but this year there has been no growth. Should I hope for improvement or dig it up and plant something else?
A. Slugs and asparagus beetles may have made it appear that there is no growth. As they come into growth, you will probably need to put down a slug control, such as ferric phosphate slug pellets or a nematode slug solution.
Q. We have a Ginkgo Biloba tree. I understand that it can be propagated from cuttings, but am yet to have any success. What would the panel recommend?
A. These trees have male and female plants and are normally propagated from seed. The small shell within the fleshy part of the seed can be put into a multi-purpose compost and kept outside over the winter, at which point it should germinate. If you only have a male tree, you can try to grow from cuttings - take hardwood cuttings now or softer cuttings in the summer, keep them under a cloche to protect them from the weather, and plant them into a gritty soil.
Q. What does the panel recommend I grow in my solar room? It is only heated by the sun - so is warm in summer and cold in winter (although frost-free).
A. Plants in containers which have been outside over the summer can be moved inside, such as olive plants, citruses, Bird of Paradise or Bougainvillea. Scented-leaved Pelargoniums can stay attractive through the winter. Of the citruses, the lemon is the easiest to grow, tangerines or satsumas are also advisable. Succulents and cacti will prevent too much water vapour entering the air. Climbers such as Trachelospermum Jasminoides has white fragrant flowers and would grow nicely. Mediterranean or African bulbs, such as Lachenalia, are also suggested.
Q. Which make the best plants for show - leeks grown from seed or from pods?
A. Once a leek is about to produce a flowerhead, cut it off. After two weeks, take the leek out of the ground and it will produce a cluster of bulbs. These can be planted out in August for winter, though they will probably not be suitable for showing. A pod will be vegetatively exact to the existing show leek, whereas the seed will show variation.
Q. I garden on the eastern edge of the wood, where the soil is heavy and damp. Early in the year there are Snowdrops, but after that groundcover is dominated by Creeping Buttercup. Could the panel suggest an alternate, attractive groundcover plant that would hold back the buttercup and encourage wildlife.
A. Learn to love the Buttercup! You could introduce a Ranunculus Ficaria, or Celandine. The 'Brazen Hussy' variety has dark leaves, which would introduce nice variety of colour. You could also add a Lamium, or a Vinca Minor. Leucojum, the Summer Snowflake, or ferns such as Dryopteris filix-max (male fern) or the Soft Shield ferns.
Q. What is the expected life span of a modern shrub Rose?
A. They should last 40-50 years with no trouble, though you should thin out the older wood, which will encourage regeneration.
Q. I love collecting free food from the hedgerows. Which free foods do the panel forage for?
A. Sloes, for the gin, Elderflowers for pancakes or Champagne and Crab Apples for cider!
Q. I have two overgrown Blackcurrant bushes in my garden, How should they be pruned and can I chop them back to the base?
A. With a sharp saw, cut out the older, non-productive stems from the base, over the course of 4 or 5 years in an annual cycle. Once it has been well pruned, give it a general fertilizer in the spring. If the plant gets large, swollen buds, it may have Blackcurrant reversion virus. If so they probably needs removing.
Last on
Damsons in Distress 1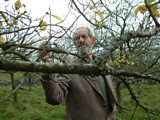 This week Eric Robson travelled to find one of his favourite fruits, the damson. He visited Bob Bradley in his damson orchard near Witherslack in Cumbria.
Damsons in Distress 2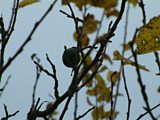 The humble, but very versatile, damson is great for cooking. They can be used to make a huge variety of products, including vinegars, jams, jellies, chutneys, gins, vodkas, wines and cakes.