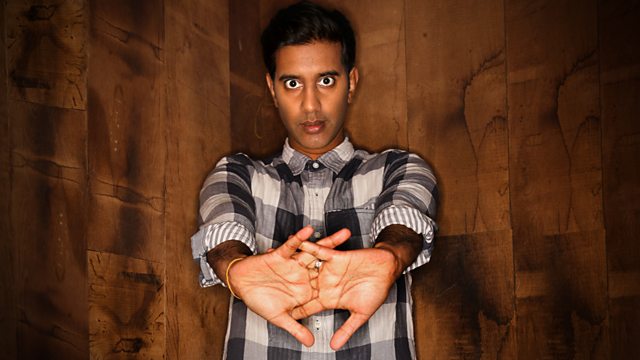 Fathers' Daughters
Nihal Arthanayake is the father of two small children - the second is a girl. Through his work on his Asian Network phone-in programme, Nihal began to discover that being the father of a girl in the Asian community was not always straightforward. This programme is his quest to find out about that relationship in Britain's South Asian communities and to investigate the issues that arise from cultural expectations.
The programme speaks to a number of Asian women from different religious and cultural backgrounds about their experiences with their fathers. Some of them have disturbing stories - women who have suffered from violent and abusive fathers, women who were forced into disastrous marriages, women who were cut out of their father's will and not treated equally to sons, women who attempted suicide. Some have cut all ties with their fathers and, as a consequence, the rest of their families. We hear from a girl whose father was liberal until the surrounding community convinced him to change his behaviour towards his daughter - but also talk to a father and his daughter who show the other side of the story with a loving, close and mutually respectful relationship.
The programme is backed up by opinion and statistics from experts in the field. Interviews include Dr Aisha Gill, Reader in Criminology with particular expertise in health and criminal justice responses to violence against ethnic minority women in the UK; Aina Khan, Senior Solicitor in Family Law; and Polly Harrar of The Sharan Project.
Producer: Laura Parfitt
A White Pebble Media production for BBC Radio 4.
Organisations which offer advice and support, from the bbc.co.uk/actionline
The WISH centre is often the first point of contact for people experiencing Domestic Abuse, Honour Based Abuse or Forced Marriages. Trained staff are available to discuss choices and options in a non judgemental way. As well as offering emotional and practical support staff will also refer to other areas within the service.
Helpline: 0854 0777 088
www.blackburnwithdarwenwomensaid.org.uk
The SHARAN Project is a UK based charity which seeks to provide support, advice and create a forum for vulnerable women, particularly of South Asian origin, who have left home forcefully or voluntarily. This could be partially or wholly as a result of disownment; potential, perceived or real threat of domestic or honour-based violence; forced marriage and or intercourse; persecution over sexual or relationship preferences; or indeed other forms of cultural conflict.
Information Line: 0844 504 3231
http://www.sharan.org.uk/
Southall Black Sisters is a not-for-profit, secular and inclusive organisation, established to meet the needs of Black (Asian and African-Caribbean) women. It to highlight and challenge all forms gender related violence against women, empower them to gain more control over their lives; live without fear of violence and assert their human rights to justice, equality and freedom.
Helpline: 0208 571 0800
http://www.southallblacksisters.org.uk/
Shakti Women's Aid is an organisation based in Edinburgh working to offer support and information to all Black Minority Ethnic women, children and young people experiencing and/or fleeing domestic abuse from partners / husbands, ex-partners and other family members.
If you think you or someone you know might be suffering from domestic abuse, forced marriage or any other form of family violence you can contact them for help
Phone: 0131 475 2399
http://www.shaktiedinburgh.co.uk/
Roshni, a registered charity, addresses minority ethnic issues throughout Scotland. Their primary aim is to ensure the safety of children, young people and vulnerable adults from minority ethnic communities.
Roshni offers confidential and multi-lingual support, a listening ear and information.  Free face to face counselling and support is also available for survivors of abuse.
Freephone helpline: 0808 80 22 222

The
Freephone 24 hour National Domestic Violence Helpline
, run in partnership between Women's Aid and Refuge, is a national service for women experiencing domestic violence, their family, friends, colleagues and others calling on their behalf.
Contact the helpline in confidence on 0808 2000 247
www.nationaldomesticviolencehelpline.org.uk
HOPELineUK, provided by the organisation PAPYRUS, is available if you're a young person and you're considering suicide, or you feel depressed or like you're not coping with life. HOPELineUK is a confidential helpline service staffed by trained professionals who can give support, practical advice and information. PAPYRUS can also offer help and advice if you're concerned about someone you know.
Helpline: 0800 068 41 41
Samaritans provides confidential non-judgemental emotional support, 24 hours a day for people who are experiencing feelings of distress or despair, including those which could lead to suicide. Contact the Samaritans by phone on 08457 90 90 90, 24 hours a day, or log onto www.samaritans.org