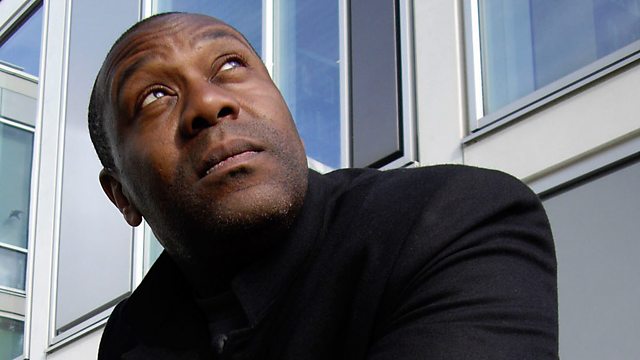 Adam attends a business conference to network and is determined to leave his Dad behind. He fails. Not only does Rudy attend but he knows the guest speaker.
Father and son comedy set in the finest old-school record shop in Birmingham. Starring Lenny Henry, Larrington Walker and some terrific tunes.
Rudy's Rare Records is a tiny down at heel old reggae record shop in Birmingham - one of a dying breed; a place with real soul, stacked with piles of vinyl, where the slogan is "if we don't have it - them don't mek it". It's owned by the charismatic, irrepressible Rudy Sharpe (Larrington Walker), reluctantly helped out by his long-suffering neurotic son Adam (Lenny Henry) and Handsworth's first, black, surly girly goth, Tasha (Natasha Godfrey). Rudy has recently married his long-term love interest Doreen (Claire Benedict) who is enjoying the challenge of getting the Sharpe men in shape.
Adam.......Lenny Henry
Rudy.....Larrington Walker
Tasha......Natasha Godfrey
Doreen......Claire Benedict
Bernard Sheedy...Justin Moorhouse
Brinsley Forde.....Brinsley Forde
Katerina.......... Liza Sadovy
Attila/Receptionist ......... Adam Nagaitis
Written by Danny Robins
Producer: Katie Tyrrell
Music featured in this episode:
TRAIN TO SKAVILLE * THE ETHIOPIANS
RADIO * RAPHAEL SAADIQ
SHINE * ASWAD
SIMMER DOWN * BOB MARLEY AND THE WAILERS
SWEAT ( A LA LA LA LA LONG) * INNER CIRCLE
JAMAICA IS THE PLACE TO GO * CHARLIE BINGER AND HIS QUARTET
HOT IN HERE * NELLY
LET'S GET IT ON * MARVIN GAYE
RUBY SOHO * JIMMY CLIFF
BE PREPARED * WINSTON SAMUEL
DON'T TURN AROUND * ASWAD
PRESSURE DROP * TOOTS AND THE MAYTALS
GIRLFRIEND IN A COMA * THE SMITHS.
Last on