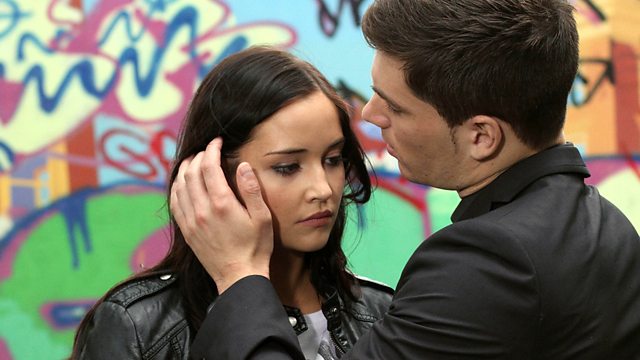 26/10/2012
Phil finds Ben's phone. Billy and Lola are relieved to learn Phil hasn't told Ben about Lexi. Phil, Billy and Jimmie talk a nervous Ian into being part of the residence application. Phil refuses to help Jack take Sharon on a picnic. Phil texts Sharon from Ben's phone 'Please help me get my daughter back, Ben'. Sharon's disgusted when she calls the number and Ben's phone rings in Phil's pocket. Ian backs out before he can sign the residence application. Phil instructs Jimmie to put Sharon's name down as his fiancée.
It's Joey's first day at the car lot and he quickly sells a car, impressing Max. To teach Joey a lesson, Lauren, Whitney and Lucy lure him to the park, handcuff him to a metal flower then abandon him. Guilty, Lucy and Whitney return to the park but claim they've come to gloat. Discovering Max might sack Joey, Lauren releases him. Tucking Lauren's hair behind her ear, Joey tells her he knows she's jealous Whitney got kissed, not her. Lauren slaps him.
Syed thinks he's not welcome at the Masoods' for Eid. Masood's affronted when Tamwar tries to give half of his Eid envelope money back. The Masoods' prepare a feast. Masood insists he won't invite Syed, but after talking to AJ, leaves an envelope of cash on Syed's doorstep. Syed's thrilled and he, Christian and Yasmin join the feast.
Derek's gutted when he discovers Jack's going to be Max's best man; he'd already written a speech and tries it out on the family photos. Intercepting a letter from David Wicks to Carol, Derek reads
then pockets it.
Cora wakes up at the B&B, horribly hung-over. She claims to Tanya that she visited Rainie who ripped up the bridesmaid's dress. Patrick's surprised by Cora's lack of enthusiasm when he returns her silver bracelet.
Last on
Credits
| Role | Contributor |
| --- | --- |
| Phil Mitchell | Steve McFadden |
| Sharon Rickman | Letitia Dean |
| Billy Mitchell | Perry Fenwick |
| Lola Pearce | Danielle Harold |
| Ian Beale | Adam Woodyatt |
| Jimmie Broome | Samuel James |
| Masood Ahmed | Nitin Ganatra |
| Tamwar Masood | Himesh Patel |
| Syed Masood | Marc Elliott |
| Christian Clarke | John Partridge |
| AJ Ahmed | Phaldut Sharma |
| Cora Cross | Ann Mitchell |
| Patrick Trueman | Rudolph Walker |
| Tanya Cross | Jo Joyner |
| Max Branning | Jake Wood |
| Joey Branning | David Witts |
| Lucy Beale | Hetti Bywater |
| Lauren Branning | Jacqueline Jossa |
| Whitney Dean | Shona McGarty |
| Jack Branning | Scott Maslen |
| Derek Branning | Jamie Foreman |
| Alice Branning | Jasmyn Banks |
| Executive Producer | Lorraine Newman |
| Director | Rupert Such |
| Writer | Jesse O'Mahoney |