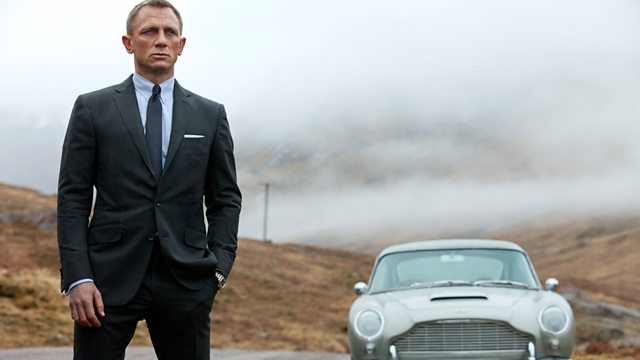 27/10/2012
Listen in pop-out player
Tom Sutcliffe and guests writers Maev Kennedy and David Aaronovitch and author Dreda Say Mitchell review the week's cultural highlights.
James Bond with Daniel Craig is back and in the new film Skyfall, directed by Sam Mendes, 007 becomes M's only ally as MI6 comes under attack, and a mysterious new villain emerges with a diabolical plan. Bond's latest mission has gone horribly awry, resulting in the exposure of several undercover agents. The villain must be stopped at any cost.
Secret State is a political conspiracy thriller tv series exploring the relationship between democratically elected government, big business and the banks. This is thrown into relief when a massive industrial accident leaves many people dead and raises awkward questions about the US petrochemical company involved.
The latest novel by Roddy Doyle, Two Pints, features a collection of humorous dialogues between two Irish men in a Dublin pub. Their conversation, which has been inspired by a year's worth of news, ranges from the missing Colonel Gaddafi and Greek debt to mourning the deaths of Whitney Houston and Maeve Binchy.
55 Days a new play by Howard Brenton is set in the period immediately after the capture of King Charles I by Oliver Cromwell's armies in December 1648. The drama follows the chain of events and reasoning that led to Charles's execution 55 days later and stars Mark Gatiss as the doomed king.
An exhibition of The Hospital Drawings by Barbara Hepworth reveals the remarkable series of drawings and paintings made by the artist during the late 1940s, illustrating surgeons at work in operating theatres within Post-War Britain.
Last on
Skyfall
Skyfall is on general release, certificate 12A.
55 Days
55 Days continues at the Tricycle Theatre, London, until 24th November 2012.
Two Pints
Two Pints by Roddy Doyle is published by Jonathan Cape.
Barbara Hepworth: The Hospital Drawings
Barbara Hepworth: The Hospital Drawings is The Hepworth, Wakefield until the 3rd February January 2013.
Secret State
Secret State begins on Channel 4 on 8th November at 10pm.