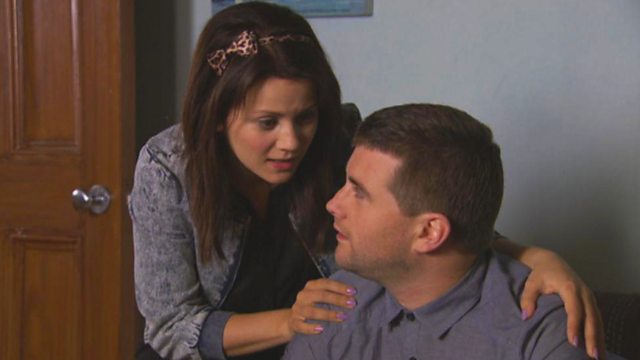 23/10/2012
It's Conor's fifteenth birthday and Nicole buys him the perfect birthday present - a new computer game. However, her spirits are soon dampened when Leyla refuses to let her supervise a last-minute party for Conor's friends. Nicole persuades Stevie to speak to Leyla, she's delighted when he manages to twist her arm but is less than thrilled when she realises that he has invited Alice along. She wanted him all to herself. However, when Zinnie gleefully turns up to supervise on Leyla's orders and Stevie is more interested in making Alice feel at home, Nicole is furious. Nicole decides to get proactive and asks her pal Paul from college to stop by...with all the booze he can muster. The kid's party gets more rowdy with Paul, Nicole, Zinnie and Christina secretly drinking. Nicole's responsible tactics start to slack as she allows Conor some of the vodka and doesn't stop Paul from offering out some pills. As the kids' go upstairs, Nicole and friends start a game of spin the bottle. When a concerned Stevie comes down to check on them, Nicole takes her dare to the next level and snogs Christina to make him jealous. Furious, Stevie asks her what the hell is going on and Nicole lets rip. Left alone to cry, Nicole is comforted by Christina but gets the shock of her life when Christina leans in to kiss her. Finding an outlet for all her rage and frustration, she verbally attacks Christina for being gay. Christina decides to get back at Nicole by getting off with Paul and she is vulnerable enough to accept a 'legal-high' pill from him. Nicole meanwhile sulks in the corner and does nothing to stop Paul leading Christina upstairs. Alice finds Christina in a state and Stevie decides to call an ambulance when Christina starts fitting violently. Carted off to hospital, all the neighbours are horrified when Alice reveals that she'd taken a mystery pill. (And Will questions her about it and it soon becomes clear that Alice is not all that she seems.) Meanwhile Christina wakes in hospital but it's clear she is heartbroken from Nicole's rejection. At the Brodie's, Leyla is beyond betrayed by the party but directs all her anger at Stevie. Nicole can't believe it and realises that no one considers her a grown up. Stevie lays it out for her. She let drugs into a kid's party, even after everything they went through, she has no respect for him. Unable to be around her, he leaves her miserable and alone.
Robbie is completely up to high doh at the prospect of Will's father Edward meeting his parents. At first the evening seems to be a success with Edward having turned over a new leaf. But Robbie is utterly crushed when Edward sneaks him a cheque for £25,000 if he will cancel the wedding with Will. Unable to bring himself to tell Will, who is delighted to have his dad in his life again, Robbie opts to suffer in silence.
Scarlett leaves Jimmy to teach a song and dance routine to Madonna while she goes to pitch new pub "entertainment" ideas to Raymond but she's crushed when he turns her down. Feeling low, she is horrified to find her relatives and neighbours admiring her for overcoming her cancer. Is the only thing that's remarkable about her? But when she gets home, she finds her Madonna could be a TV star.
Last on
Credits
| Role | Contributor |
| --- | --- |
| Conor Brodie | Rian John Gordon |
| Adeeb Brodie | Taryam Boyd |
| Nicole Brodie | Holly Jack |
| Leyla Brodie | Maryam Hamidi |
| Stevie Burns | Paul-James Corrigan |
| Zinnie Hassoun | Nalini Chetty |
| Kelly-Marie Adams | Carmen Pieraccini |
| Robbie Fraser | Gary Lamont |
| DC Will Cooper | Scott Vickers |
| Alice Reynolds | Sophie Mercer |
| Jimmy Mullen | Billy McElhaney |
| Scarlett Mullen | Sally Howitt |
| Raymond Henderson | Paul Samson |
| Christina O'Hara | Caitlin Gillespie |
| Campbell Fraser | Charles Jamieson |
| Sue Fraser | Bridget McCann |
| Edward Cooper | Andrew Neil |
| Bob O'Hara | Tom Urie |
| Mark Vincent | Neil McKinven |
| Eileen Donachie | Deirdre Davis |
| Paul | James Rottger |
| Molly O'Hara | Una McLean |
| Tatiana O'Hara | Magdalena Kaleta |
| Producer | Angela Galvin |
| Director | Jim Shields |
| Writer | Ann Gallivan |