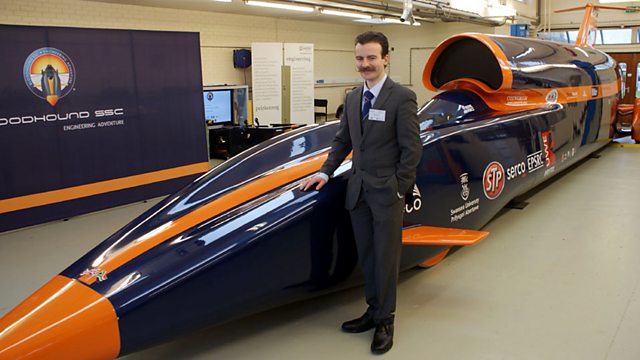 23/10/2012
Adam Walton catches up with the team behind Bloodhound SSC supersonic car, including scientists at Swansea, on track to break the 1000mph barrier on land in 2014.
Last on
Bloodhound SSC update
Adam Walton catches up with some of the members of the Bloodhound SSC project. The supersonic car is being built to smash the land speed record, and break the 1000mph barrier. We hear from rocket scientist Daniel Jubb, who has developed and built the hybrid rocket that will be used alongside a jet engine, to power the vehicle to 1000mph. Much of the work on the rocket has been done at Daniel's workshop in Wrexham. Ben Evans, from Swansea University explains the vital work that he and his colleagues have been doing to calculate the aerodynamic shape of the car. Adam is also joined by Sarah Covell, who will be setting up the mission control centre for the project. We also hear from Andy Green who will be driving the Bloodhound supersonic car as it goes for the land speed record, on a specially prepared 12 mile track in South Africa, probably early in 2014.
BBC News - Andy Green's Bloodhound diary