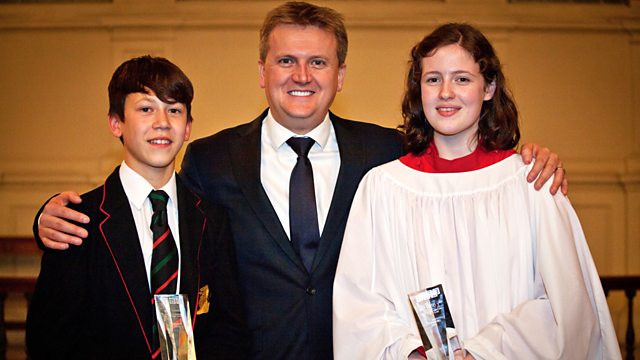 Radio 2 Young Choristers of the Year 2012
Aled Jones hosts the Grand Final of this year's competition from St Martin-in-the-Fields, Trafalgar Square. From the 8 finalists, one girl and one boy will each be awarded the title BBC Radio 2 Young Chorister of the Year 2012. With special guests Amore who will sing while the judges retire to choose the winners. Chorister Judges will be Suzi Digby, international choir director and renowned promoter of young voices, David Hill, highly respected choral advisor and Chief Conductor the the BBC Singers, Ken Burton, musical arranger and Director of the London Adventist Chorale and a singer with a career full of top ten singles and albums worldwide, Mica Paris.
Last on
About the competition
Last year Ella Rainbird-Early and Richard Decker beat young hopefuls competing to become BBC Radio 2's Young Choristers of the Year 2011. Now BBC Radio 2 is looking for the successors to their title, to affirm and encourage the contribution young people make to choirs and music groups in places of worship across the United Kingdom.

The winners, a boy and a girl, will receive a trophy and lessons with an established singing coach along with broadcast opportunities during the year.

This annual Radio 2 event is open to Choristers between the ages of 11 and 17 who sing regularly with their choir in services.
The finalists are:
Girls
Vanessa Frampton, who sings at Sheffield Cathedral
Emma Huggett, who sings at St Albans Abbey
Louisa Stirland who sings at Blackburn Cathedral
Emmie Brookes who sings at St. Margaret's Church, Betley, Staffordshire
Boys
Isaac Waddington, who sang at Chichester Cathedral
Alasdair Austin, who sings at Jesus College Cambridge
Jasper Wigley, who sings in the Chapel Choir of Winchester College
Daniel Thomas, who sings at Wheatley Park Baptist Church, Doncaster
The two chosen will each receive a trophy and tuition with a vocal coach. They will also get the opportunity to appear on national radio and television including Radio 2's
Good Morning Sunday
and Radio 4's
Daily Service
.