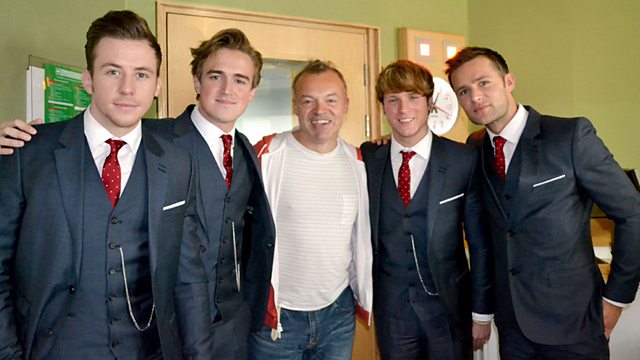 Dame Eileen Atkins and McFly
In a very busy show, top acting talent Dame Eileen Atkins chatted about her new West End play, why she didn't join the cast of the original Upstairs, Downstairs - even though she co-created it - and why she still dances to The Rolling Stones. Later, top man band McFly came in and carefully spoke about their formative years. They also gave us a world exclusive first play of a new song called Cherry Cola. Fans around the globe went wild, as did a famous social media site.
Graham also had the first play of a new version of The Eve of the War featuring Liam Neeson and Gary Barlow.
In Grill Graham we had no exclusives, unless you count some coughing from Maria McErlane who tried to help a listener with dodgy friends and another who was trying to cope with jealousy. Tricky ones this week.
Plus our Tune With A Tale encouraged us to get a haircut, while our rotten record divided the nation, or nations probably: Aneka and Japanese Boy.
Last on