Stamford
The GQT team visit Stamford in Lincolnshire, with Eric Robson in the chair and Pippa Greenwood, Bunny Guinness and Bob Flowerdew taking questions from the local gardening audience.
Produced by Howard Shannon.
A Somethin' Else production for BBC Radio 4.
Last on
Making a bid for freedom!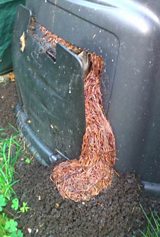 Possibly hundreds of thousands of brandling worms pushed the door of this compost heap until they could finally smell the taste of freedom. Why it happened, the panel really weren't sure!<?xml:namespace prefix = o ns = "urn:schemas-microsoft-com:office:office" />
Bunny's favourite new variety of rhubarb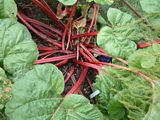 In her garden on the Cambs-Lincs border, Bunny has been trialling this super-sweet, pink-tinged variety called "Fulton's Strawberry Surprise". The yield has been huge.
Perfect for even the smallest garden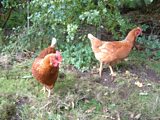 While you might not have the room of Bunny's garden, chickens can be kept in a surprisingly small space - and they will peck up and eat slug and snail eggs.
Sessi and her offspring Cecil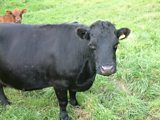 Livestock, while needing space, comes in all shapes and sizes. Sessi and her calf are, according to Bunny, perfect for a small holding as they can be man-handled if necessary.