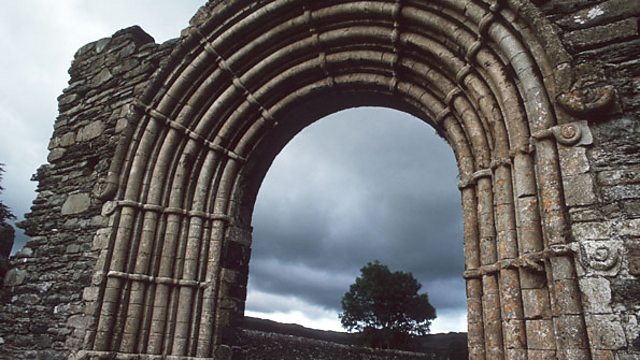 Learning to Love Dafydd
Gwyneth Lewis, the first Welsh Poet Laureate whose giant words light up the front of the Wales Millennium Centre, has never been able to come to terms with the great Welsh language poet Dafydd ap Gwilym.
He's the Welsh equivalent of Chaucer or Shakespeare and has been hugely influential on contemporary Welsh poetry, from Dylan Thomas to the bardic competitions on Radio Cymru. But Gwyneth's teenage self found him sexist and laddish and a representative of a tradition she rebelled against.
As a Welsh language poet Gwyneth feels she can't avoid Dafydd any longer and needs to face him head on. She visits the ruined abbey at Strata Florida in West Wales where he worked and was buried, meets songwriter and former lead singer of Catatonia Cerys Matthews and Welsh poet and language activist Menna Elfyn, and goes in search of him in the poetry competitions at the National Eisteddfod of Wales. Actor Steffan Rhodri brings Dafydd ap Gwilym's poetry to life.
Gwyneth tries to come to terms with her heritage and learn to love Dafydd - and see if she can write a poem directly to him.
Producer: Allegra McIlroy.
Poems heard within the programme
The Den/ Y Deildy extract
By Dafydd ap Gwilym trans Gwyneth Lewis
Read by Steffan Rhodri
A Girl Taunts him for Cowardice/ Merch yn Edliw ei Lyfrdra extract
By Dafydd ap Gwilym trans. Gwyneth Lewis
Read by Steffan Rhodri
The Gull / Yr Wylan extract
By Dafydd ap Gwilym, trans Dafydd Johnston
Read by Steffan Rhodri
The Girls of Llambadan/ Merched Llanbadarn extract
By Dafydd ap Gwilym, trans. Joseph P Clancy
Read by Cerys Matthews
The Penis/ Y Gal extract
By Dafydd ap Gwilym, trans. James Doan
Read by Cerys Matthews
The Poet and the Grey Brother/ Y Bardd a'r Brawd Llwyd, extract
By Dafydd ap Gwilym, trans. Nigel Heseltine
Read by Cerys Matthews
A Journey to Love/ Taith i Garu extract
By Dafydd ap Gwilym trans. Gwyneth Lewis
Read by Steffan Rhodri
Strata Florida
By Gwyneth Lewis
Read by Gwyneth Lewis
The Clock/ Y Cloc extract
By Dafydd ap Gwilym trans by Joseph P Clancy
Read by Menna Elfyn
Morfudd
By Gwyneth Lewis
Read by Gwyneth Lewis
Fern Hill extract
By Dylan Thomas
Read by Tudur Dylan Jones
Trafferth mewn Tafarn/ Trouble in an Inn extract
by Dafydd ap Gwilym
Read by Tudur Dylan Jones
Learning to Love Dafydd
By Gwyneth Lewis
Read by Gwyneth Lewis
A Stubborn Girl/ Merch Gyndyn extract
By Dafydd ap Gwilym trans. Gwyneth Lewis
Read by Steffan Rhodri