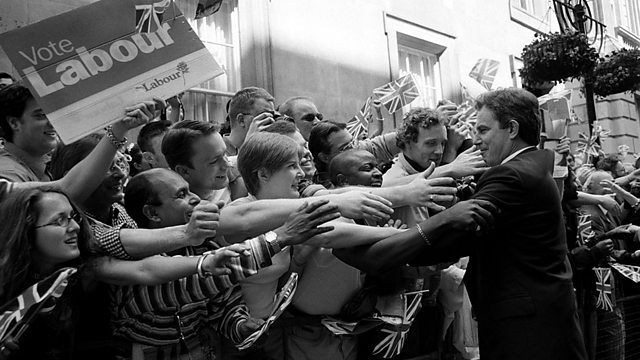 Things Can Only Get Better - Cool Britannia
Much like Brimful Of Asha, Things Can Only Get Better was a minor hit (in 1994) before it was remixed and began its climb up the charts and finally to the number one spot where it sat for four weeks. But that wasn't the end of the song's story. In 1997 The Labour Party looking for a song to sum up their campaign decided to adopt it for the upcoming election scrap. Labour won the election and the single hit the top twenty once more.
Labour had been in of opposition for 18 years and Neil Kinnock had twice snatched defeat from the jaws of victory (firstly with a stumble on the beach in Brighton and then with a hubristic appearance at Sheffield Arena). It was time for a change of leader, followed by a re-branding. It was now New Labour helmed by Team Blair. This re-branding was an almost instant success as New Labour not only won, but did so by a landslide. The Tory party, tired and mired in sleaze, slunk off to lick its wounds. This seemed to be the beginning of a new dawn and a time for celebration; not only did Britain seem to be on the verge of possibly being 'Great' again, but it also became a hip 'n' happening place to live. It was Cool Britannia.
There was a vibrant mood to the economy, the culture and the arts were thriving and it seemed like the UK was at the centre of the universe. This, we were told, was a revolution, albeit a polite and spin-doctored one.
And pop was along for the ride. Noel Gallagher was the highest profile rock star to be photographed attending a media party at Number 10 Downing Street and many of his peers were also on board and on-message. But the trouble with being 'cool' is that it doesn't last long. The veneer quickly faded as - to paraphrase one of Noel's heroes, Pete Townsend - it became apparent that the new boss was the same as the old boss. With Blair becoming increasingly chummy with George W Bush, and a war with Iraq looking more and more inevitable, a nation vehemently protested against New Labour. The British Stop the War Coalition held a protest in London, which it claimed was the largest political demonstration in the city's history with around a million people protesting against the government's increasingly unpopular policies. The saviour of the nation had quickly become its bogeyman.
But for a brief moment, when New Labour came to power, it felt like a national rebirth What do you remember about 'Cool Britannia'? Were you swept up by the optimism of the era? The People's Songs wants to hear from you...
Last on