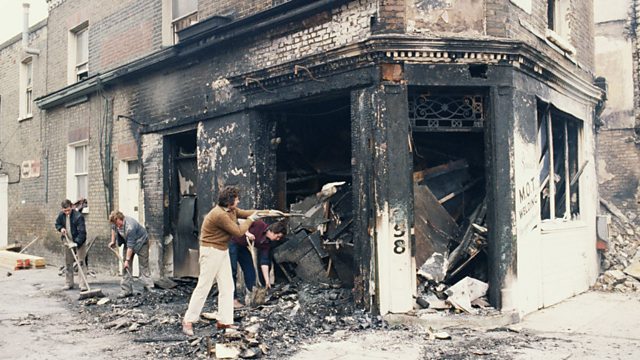 Ghost Town - Post-Industrial Decline
Ghost Town was certainly one of the strangest and bleakest number one singles ever. And yet its success was no doubt due to the fact that it chimed perfectly with the times: providing a perfect soundtrack to the riots of 1981 and to Britain's general urban decay. In fact, Jerry Dammers' song seemed almost to be reportage; Dammers himself said he wanted to convey the sense of impending doom that was felt nation-wide. Rock writer Jo Ann Greene said of Ghost Town that the lyrics "only brush on the causes for this apocalyptic vision - the closed down clubs, the numerous fights on the dance floor, the spiralling unemployment, the anger building to explosive levels. But so embedded were these in the British psyche, that Dammers needed only a minimum of words to paint his picture."
Although the single was released on the ground-breaking 2-Tone label, the idealism of racial unity and equality the label (and indeed the band) embodied seemed to be purely a pipe-dream at that point in time. That utopian ideal didn't seem to be widely prevalent in the UK in the early '80s, particularly in places like Brixton, Toxteth or Bristol. The nation did feel doomed. Unemployment was rife. Britain burned and riots were happening all across the country. But the people of Coventry (the Specials' home town) were less than impressed that their home was the inspiration for this huge, but bleak, hit single.
The Specials released probably the strangest, most haunting evocation of a very particular time in British history. Were you one of the millions of unemployed at that time? Did you feel that Coventry had been misrepresented? The People's Songs wants to hear from you...
Last on