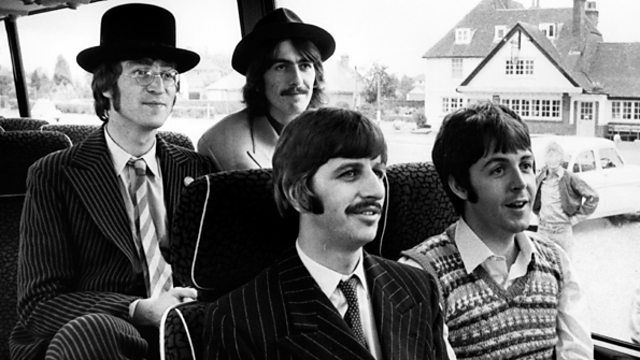 The Beatles' Magical Mystery Tour
The television film Magical Mystery Tour was devised, written and directed by The Beatles. It has a significant place in the history of The Beatles - not least, because it was viewed by many as the group's first failure. In the UK, it was transmitted by BBC 1 in black and white on 26 December, 1967 and then shown ten days later in colour on BBC 2. Certainly, the impact of the film's special effects was diminished by watching in monochrome and this may have contributed to the bafflement experienced by many viewers. But as Paul McCartney acknowledges, the film's generally unfavourable reception was more affected by its scheduling on Boxing Day, usually reserved for fairly light entertainment rather than an experimental fantasy film.
The documentary also examines the group's activities during 1967 before they spent most of the final four months working on their film. It was a momentous year. It began with Penny Lane/Strawberry Fields Forever; their LP Sgt. Pepper's Lonely Hearts Club Band was released in June; they performed All You Need Is Love on Our World - the first global TV show linking five continents by satellite. While learning about Transcendental Meditation with Maharishi Mahesh Yogi in Bangor, North Wales, The Beatles received the shocking news of the sudden death of their manager Brian Epstein. Two weeks later they began filming Magical Mystery Tour.
Credits
| Role | Contributor |
| --- | --- |
| Actor | John Lennon |
| Actor | Paul McCartney |
| Actor | George Harrison |
| Actor | Ringo Starr |
| Actor | Neil Innes |
| Director | George Harrison |
| Director | Bernard Knowles |
| Director | Paul McCartney |
| Director | John Lennon |
| Director | Ringo Starr |
Featured in...
Radio 2 celebrates the 50th anniversary of the Beatles first hit back in 1962.