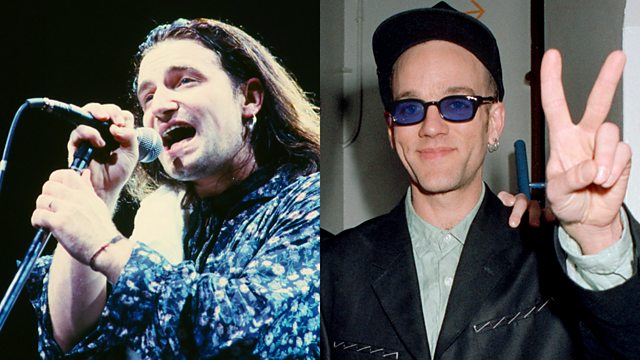 U2's The Joshua Tree and REM's Automatic for the People
U2's fifth studio album The Joshua Tree is a love letter to America and part of their journey to discover real blues, soul and rock'n'roll music. It is also full of references to Irish roots music and social and political lyrics relating to Britain, Ireland, Africa and (North and South) America. Released in 1987 The Joshua Tree topped the charts in more than 20 countries. As Johnnie and David mention the album opened with three of the strongest singles ever released. At the time this was somewhat unusual and credit should go to the late Kirsty MacColl who, although not a great fan, agreed to her then husband Steve Lillywhite's request to help with the track sequencing. She reportedly claimed that it was easy, all she did was put her favourite song at the beginning, then her next favourite song, and so on...
Like many of the albums in the series Johnnie and David realised that although they love the R.E.M. singles you hear on the radio every day, it's been a while since they listened to the whole of Automatic For The People. In a similar vein to The Joshua Tree, the album, released in 1992, yielded many hit singles - Drive, Man On The Moon, The Sidewinder Sleeps Tonight, Everybody Hurts and Nightswimming as well a mixture of unpredictable tracks, haunting hymns and hard political rock songs. Led Zeppelin's John Paul Jones added beautiful orchestral arrangements.
The programme features highlights from the albums, with interview clips, comment and cultural history from Johnnie and broadcaster and critic David Hepworth. In 1994 Johnnie introduced U2 live on the BBC from the RDS in Dublin and David introduced R.E.M. on Whistle Test in the early days of their career.
Last on