Kidlington
Eric Robson chairs an episode of the horticultural panel programme recorded in Kidlington in Oxfordshire, with Pippa Greenwood, Matthew Wilson, and Anne Swithinbank taking questions from a local audience.
Produced by Howard Shannon
A Somethin' Else production for BBC Radio 4.
Last on
When Bob met James Wong pt. 2: PERUVIAN EARTH APPLE (AKA. YACON) Smallanthus sonchifolius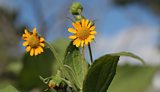 Super easy-to-grow members of the sunflower family that thrive in our cool wet summers, Peruvian earth apples (aka. Yacón) have to be positively the most productive root crop that can be grown in the UK. A single plant can produce up to an astonishing 10kg of sweet, sugary roots in a single season. They even have pretty, albeit rather small, yellow daisy like flowers atop their tall stems of exotic foliage.
When Bob met James Wong pt. 2: PERUVIAN EARTH APPLE (AKA. YACON) Smallanthus sonchifolius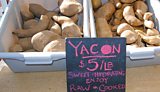 Looking much like giant, dusty-skinned sweet potatoes, the flavour of the roots is altogether more crisp, refreshing and sugar cane-like – with a flavour somewhere between a water chestnut and an Asian pear. Their sweet flavour means they neatly straddle the culinary boundary between sweet and savoury – tasting as delicious in a oriental stir fry as they do in a tropical fruit salad. Why this isn't a common UK crop I will never know!
QUINOA (Pronounced "KEEN-WAH") Chenopodium quinoa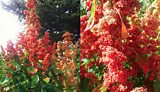 Basically just a great big, disco-coloured version of fat hen – the common garden weed – this superfood grain of the Incas is nevertheless incredibly easy to grow in the UK. Simply scatter the grains over bare ground in April and May and within days you will have a lush green carpet of tiny seedlings.
Come July the plants will erupt into bloom in a range of sunset hues that will easily hold their own in any flower border. Even their leaves are edible & can be cooked and eaten just like spinach, only without spinach's nasty habit of collapsing and going murky brown on cooking. Incredibly just 6-8 plants will produce up to a pound of grain, making it one of only two grains (the other being maize) that it makes sense for UK home growers to have a go at. Stunning, delicious and offering up two crops for the effort of one – make space for a few of these little babies and you will never look back!
Find out more about James Wong's Homegrown Revolution