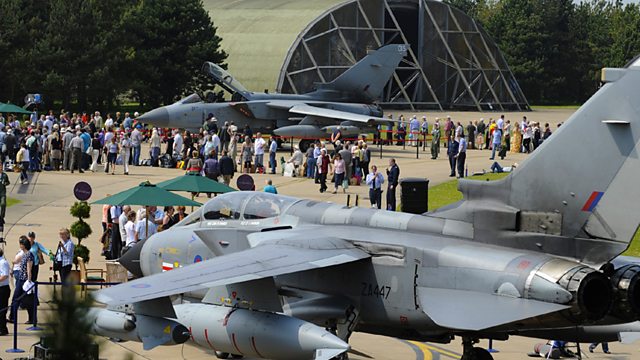 Fiona Bruce and the team are inside an active air base at Marham in Norfolk, home to the RAF's longest-serving squadron as it celebrates its centenary year.
Objects brought in include a gold cup boasting a handsome history as well as a stunning valuation, a poignant book depicting the hard life of a Victorian orphan, and - in another break with tradition - two tattoo artists demonstrate a new form of artistic endeavour.
Last on
More episodes
Previous
You are at the first episode
Crazy about Costume Jewellery?
At RAF Marham, specialist Judith Miller set Fiona and the visitors a pretty tricky task; to work out which of these three pieces of costume jewellery is the basic and worth £200, which is the better at £900 and which one would fetch £2000.
The Essentials:
Costume jewellery has been around for centuries – even the ancient Egyptians wore it. In the simplest terms it is jewellery made from non-precious stones and materials. It's designed to be worn every day and because of that, people often assume it's not worth very much. However, as you can see, that's not always the case. As there's very little intrinsic value to the materials, the design and the maker become very important in determining how desirable and therefore how valuable the jewellery is.
So which is which?
(See picture gallery)
BASIC: This piece dates from the 1960's and was designed by a man called Stanley Hagler. He's a good name to look out for but this piece is heavy and rather difficult to wear. This detracts from the desirability a little and it is worth about £200.
BETTER: This moon pin is by Joseff of Hollywood and dates from the 1940's. The design embodies Hollywood glamour of that era and Judith gets admiring comments whenever she wears it, especially because the eyes move. This piece is worth £900.
BEST: This poinsettia brooch was designed by a man called Alfred Philippe for a company called Trifari. Although not precious jewels, the brooch is incredibly well made and was produced by one of the most sought after designers. As a result, it has both rarity and desirability and is worth £2,000.
More about the designers…
Stanley Hagler
Hagler began designing costume jewellery in the 1950's. He certainly had an impressive client list and designed for people like the Duchess of Windsor. His clients would bring their outfits to him and he would design a piece of jewellery to go with it. One way to tell an early piece of Hagler jewellery is by the label. Before 1982, they were simply labelled 'Stanley Hagler', but post-1982 he changed it to 'Stanley Hagler N.Y.C.'
Joseff of Hollywood
Eugene Joseff was born in Chicago in 1905. In the late 1920's he moved to Hollywood and began designing jewellery for Hollywood movies. His jewellery appeared in movies such as Gone with the Wind, Around the World in Eighty Days and Ben Hur. Joseff kept the copyright to the designs and had some limited edition pieces made from non-precious material – he wanted women to look and feel as glamorous as the movie stars.
Trifari & Alfred Philippe
Gustavo Trifari was born in Naples but later moved to New York where he joined forces with Leo Krussman and Carl Fishel to form the company. However it wasn't until they were joined by head designer Alfred Philippe in 1930 that they really started making costume jewellery of note.  Philippe actually began his career by designing precious jewellery for Van Cleef & Arpels but after the depression in the 1920's, he moved to Trifari. He kept the same designs but made them with non-precious materials. The Best brooch seen here was originally designed to be rubies and diamonds but instead he substituted them with rhinestones.
Did you know?
Even the Royal family have been seen out and about in costume jewellery!
If you have some costume jewellery at home that you'd like to know more about, why not bring it along to one of Antiques Roadshow valuation days. Dates and venues for 2013 will be available on our Homepage soon.
Credits
| Role | Contributor |
| --- | --- |
| Series Editor | Simon Shaw |
| Presenter | Fiona Bruce |
| Producer | Michele Burgess |