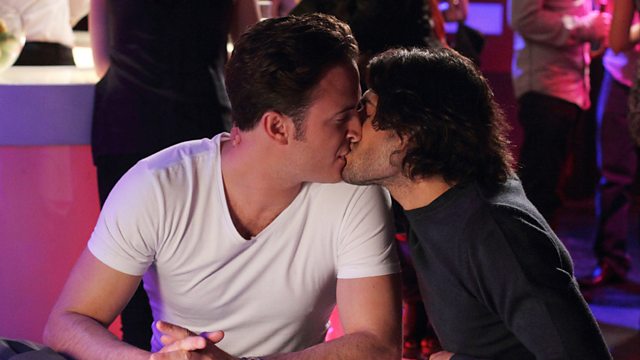 12/10/2012
Syed tells Christian he's at his disposal until the wedding and has booked them a honeymoon weekend in Paris. Christian's despondent when the wrong wedding suits arrive. Syed starts to feel overwhelmed and panicky at the thought of married life but claims to Masood nothing's wrong. Syed misses Tamwar's big night and meets Danny in R&R. Syed asks for an advance on his investment, Danny tells him it will pay out when it pays out. Danny puts his arm around Syed, Syed kisses him then bolts. Danny follows and despite Syed's protestations they're soon kissing again - unaware that Masood's watching, horrified.
Tamwar's hurt when Zainab informs him she and Masood are too busy with Syed's wedding to come to watch his stand-up routine. However, Christian and Fat Boy are in the audience to support him. On stage, Tamwar's about to launch into a tirade about Zainab when he spots Masood; he tails off and after some lame jokes is jeered off the stage. Masood apologises to Tamwar, they've let him down.
Sharon insults Kim whilst telling her she and Dennis are leaving the B&B. Sharon informs Jack she's moving on. Taking Jack's advice, Sharon tells Dennis the truth about his dad's murder; Dennis' angry. Deciding to stay in Walford, Sharon apologises to Kim but she's already let Sharon's room. Sharon has no luck looking for somewhere to stay; declining Phil's offer she heads to Jack's.
Billy, Abi and Jay try to be supportive, but can't get through to Lola. Eventually, Lola cracks and destroys Lexi's mobile. Billy asks Phil for help and is shocked by the terms he sets out - to put a residency order in for Lexi to live with him. Phil visits Lola and assures her everything's going to be okay now he's in charge.
Last on
Credits
| Role | Contributor |
| --- | --- |
| Masood Ahmed | Nitin Ganatra |
| Syed Masood | Marc Elliott |
| Danny Pennant | Gary Lucy |
| Christian Clarke | John Partridge |
| Tamwar Masood | Himesh Patel |
| AJ Ahmed | Phaldut Sharma |
| Zainab Khan | Nina Wadia |
| Roxy Mitchell | Rita Simons |
| Phil Mitchell | Steve McFadden |
| Billy Mitchell | Perry Fenwick |
| Lola Pearce | Danielle Harold |
| Jay Mitchell | Jamie Borthwick |
| Abi Branning | Lorna Fitzgerald |
| Sharon Rickman | Letitia Dean |
| Dennis Rickman | Harry Hickles |
| Jack Branning | Scott Maslen |
| Kim Fox | Tameka Empson |
| Arthur 'Fat Boy' Chubb | Ricky Norwood |
| Executive Producer | Lorraine Newman |
| Director | Steve Finn |
| Writer | Nicholas Hicks-Beach |