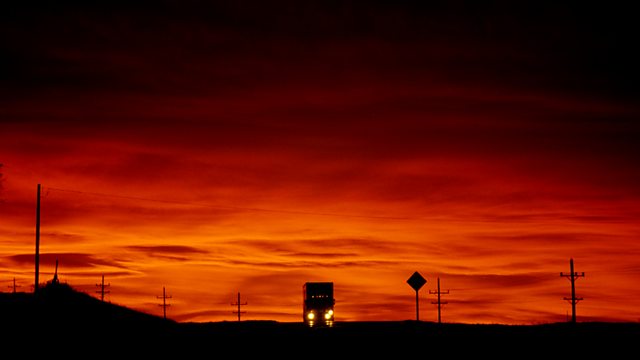 19/10/2012
Susan Sharpe presents a concert recorded at the Winter Festival in Roros, Norway featuring chamber music by Beethoven, Debussy and Brahms.
12:31 AM
Beethoven, Ludwig van [1770 -1827]
Trio in B flat major Op.11 for clarinet (or violin), cello and piano
Thomas Norup Jensen (clarinet), Henrik Brendstrup (cello), Jorgen Larsen (piano)
12:52 AM
Debussy, Claude [1862-1918]
Sonata in D minor for cello and piano
Henrik Brendstrup (cello), Tor Espen Aspaas (piano)
1:04 AM
Brahms, Johannes [1833-1897]
Sextet no. 1 in B flat major Op.18 for strings
Marianne Thorsen (violin), Viktor Stenhjem (violin), Rachel Roberts (viola), Radim Sedmidubsky (viola), Alasdair Strange (cello), Henrik Brendstrup (cello)
1:44 AM
Tchaikovsky, Pyotr Il'yich [1840-1893]
Symphony no. 5 in E minor Op.64
Mariinsky Orchestra, Valery Gergiev (conductor)
2:31 AM
Bach, Johann Sebastian [1685-1750]
Jesu, meine Freude - motet BWV.227
Choir and Orchestra of Latvian Radio, Aivars Kalejas (organ), Sigvards Klava (conductor)
2:52 AM
Korngold, Erich Wolfgang [1897-1957]
Violin Concerto in D (Op. 35)
James Ehnes (violin), Vancouver Symphony Orchestra, Bramwell Tovey (conductor)
3:18 AM
Telemann, Georg Philipp [1681-1767]
Sonata for transverse flute & basso continuo in D major (from Essercizii Musici)
Camerata Köln, Karl Kaiser (transverse flute), Rainer Zipperling (cello), Sabine Bauer (harpsichord)
3:30 AM
Ravel, Maurice [1875-1937]
La Valse - choreographic poem arr. for 2 pianos
Lestari Scholtes (piano), Gwilym Janssens (piano)
3:43 AM
Forster, Kaspar Jr [1616-1673]
O Quam dulcis
Olga Pasiecznik (soprano), Kai Wessel (alto), Krzysztof Szmyt (tenor), Il Tempo Baroque Ensemble
3:50 AM
Shostakovich, Dmitry [1906-1975]
Quartet for strings no. 1 (Op.49) in C major
Fine Arts Quartet
4:05 AM
Mozart, Wolfgang Amadeus [1756-1791]
Overture to Le Nozze di Figaro - opera in 4 acts K.492
Stavanger Symphony Orchestra, Susanna Mälkki (conductor)
4:10 AM
Chopin, Fryderyk [1810-1849]
Nocturne no.2 in D flat major, Op 27
Ronald Brautigam (piano)
4:16 AM
Chopin, Fryderyk [1810-1849]
Polonaise in A major (Op.40 No.1) arr. for orchestra
Slovak Radio Symphony Orchestra in Bratislava, Oliver Dohnányi (conductor)
4:22 AM
Yuste, Miguel [1870-1947]
Estudio melodico for clarinet and piano (Op.33)
Cristo Barrios (clarinet), Lila Gailing (piano)
4:31 AM
Beethoven, Ludwig van [1770 -1827]
Overture to Egmont - incidental music Op.84
Norwegian Radio Orchestra, Michel Tabachnik (conductor)
4:40 AM
Mathias, William [1934-1992]
A May magnificat for double chorus (Op.79 No.2)
BBC Singers, Stephen Cleobury (conductor)
4:49 AM
Bach, Carl Philipp Emanuel [1714-1788]
Sonata in C major for flute and harpsichord (Wq.73)
Konrad Hünteler (flute), Ton Koopman (harpsichord)
5:03 AM
Offenbach, Jacques [1819-1880]
Recit and duet 'C'est une chanson d'amour' (Antonia and Hoffmann)
Lyne Fortin (soprano), Richard Margison (tenor), Orchestre Symphonique du Québec, Simon Streatfield (conductor)
5:11 AM
Wieniawski, Henryk [1835-1880]
Polonaise in A major for violin & piano (Op.21)
Piotr Plawner (violin), Andrzej Guz (piano)
5:20 AM
Gorecki, Henryk Mikolaj [1933-]
Salve Sidus Polonorum - Cantata in honour of St Wojciech (Adalbertus) (Op.72)
Warsaw Philharmonic Choir, Henryk Wojnarowski (choirmaster), Percussion Ensemble of the National Philharmonic Orchestra, National Polish Radio Symphony Orchestra, Wojciech Michniewski (conductor)
5:46 AM
Scarlatti, Alessandro [1660-1725]
Toccata per cembalo d'ottava siete in D minor (Napoli 1723)
Rinaldo Alessandrini (harpsichord)
6:06 AM
Wolf, Hugo [1860-1903]
Italian serenade for string quartet
Bartok Quartet
6:13 AM
Mozart, Wolfgang Amadeus [1756-1791]
Concerto no. 4 in E flat major K.495 for horn and orchestra
David Pyatt (horn), Bergen Philharmonic Orchestra, Robert King (conductor).
Last on