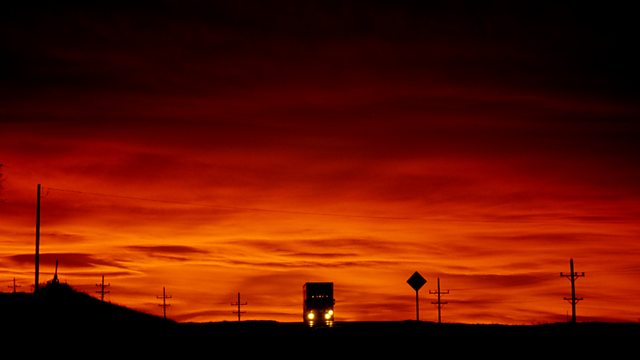 17/10/2012
Susan Sharpe presents a recital by organist Petr Cech in works by Klicka, Tichy, Wiedermann and Alexandre Guilmant.
12:31 AM
Klicka, Josef (1855-1937)
Concert Fantasy, based on motifs from Smetana's Vysehrad
Petr Cech (organ)
12:43 AM
Tichy, Otto-Albert (1890-1973)
Sonata in E minor
Petr Cech (organ)
1:01 AM
Suchon, Eugen (1908-1993)
Ballade for Horn and Orchestra
Peter Sivanic (horn), Slovak Radio Symphony Orchestra in Bratislava, Mário Kosík (conductor)
1:10 AM
Wiedermann, Bedrich A. (1883-1951)
Variations on Composer's Theme
Petr Cech (organ)
1:22 AM
Guilmant, Alexandre (1837-1911)
Sonata for organ no. 5 (Op.80) in C minor
Petr Cech (organ)
1:53 AM
Saint-Saëns, Camille (1835-1921)
Symphony No.3 in C minor 'Organ Symphony' (Op.78)
Karstein Askeland (organ), Bergen Philharmonic Orchestra, Alexander Vedernikov (conductor)
2:31 AM
Bacewicz, Grazyna (1909 -1969)
Violin Concerto No.4
Janusz Skramlik (violin), Polish Radio National Symphony Orchestra in Katowice, Tomasz Bugaj (conductor)
2:56 AM
Bach, Johann Sebastian (1685-1750)
Prelude, Fugue & Allegro in E flat major (BWV. 998)
Konrad Junghänel (lute)
3:10 AM
Méhul, Etienne-Nicolas (1763-1817)
Symphony No.1 in G minor
Cappella Coloniensis, Bruno Weil (director)
3:38 AM
Wolf, Hugo (1860-1903)
Italian serenade for string quartet
Bartók Quartet
3:45 AM
Weber, Carl Maria von (1786-1826)
Sonatina, Romance and Menuet - from Six petites pièces faciles for piano duet
Antra Viksne and Normunds Viksne (piano duet)
3:52 AM
Rosenmüller, Johann (c.1619-1684)
Beatus vir qui timet Dominum
Johanna Koslowsky (soprano), David Cordier (countertenor), Wilfried Jochens (tenor), Stephan Schreckenberger (bass), Carsten Lohff (organ), Cantus Köln, Konrad Junghänel (conductor and lute)
4:06 AM
Glinka, Mikhail Ivanovich (1804-1857)
Overture - from Ruslan & Lyudmila
Trondheim Symphony Orchestra, Arvid Engegaard (conductor)
4:12 AM
Glazunov, Alexander Konstantinovich (1865-1936)
Serenade Espagnol (Op.20 No.2)
Jan-Erik Gustafsson (cello), Heini Kärkkäinen (piano)
4:16 AM
Chopin, Frédéric (1810-1849)
Mazurka No.25 in B minor (Op.33 No.4)
Roland Pöntinen (piano)
4:22 AM
Kunzen, Friedrich (1761-1817)
Overture to the play 'Husitterne' (The Hussites)
Danish Radio Concert Orchestra, Peter Marschik (conductor)
4:31 AM
Walpurgis, Maria Antonia (1724-1780)
Sinfonia from 'Talestri, Regina delle Amazzoni' Dramma per musica
Batzdorfer Hofkapelle, Tobias Schade (harpsichord/director)
4:38 AM
Chopin, Fryderyk (1810-1849)
Waltz for piano (Op.18) in E flat major 'Grande valse brillante'
Zoltán Kocsis (piano)
4:43 AM
Bree, Johannes Bernardus van (1801-1857)
Allegro for 4 string quartets in D minor (1845)
Viotta Ensemble, Viktor Liberman (conductor)
4:55 AM
Haydn, Joseph (1732-1809)
Trumpet Concerto in E flat major (Hob.VIIe:1)
Ole Edvard Antonsen (trumpet), Norwegian Radio Orchestra, Nicolae Moldoveanu (conductor)
5:12 AM
Liszt, Franz (1811-1886)
Légende No.1: St. François d'Assise prêchant aux oiseaux (S.175)
Llyr Williams (piano)
5:23 AM
Ravel, Maurice (1875-1937)
Berceuse sur le nom de Gabriel Fauré
James Ehnes (violin), Wendy Chen (piano)
5:27 AM
Chausson, Ernest (1855-1899)
Poeme de l'amour et de la mer (Op.19) vers. for voice and orchestra
Maria Oran (soprano), Residentie Orchestra, The Hague, Hans Vonk (conductor)
5:54 AM
Mokranjac, Stevan (1856-1914)
Fifth Song-Wreath (From my homeland)
Irina Arsikin (soprano), Karolj Kolar (tenor), Belgrade Radio & Television Choir, Mladen Jagust (conductor)
6:05 AM
Mendelssohn, Fanny Hensel (1805-1847)
Songs Without Words (Op.6)
Sylviane Deferne (piano)
6:15 AM
Bach, Johann Sebastian (1685-1750)
Concerto in A major (BWV.1055)
Hans-Peter Westermann (oboe d'amore), Camerata Köln.
Last on