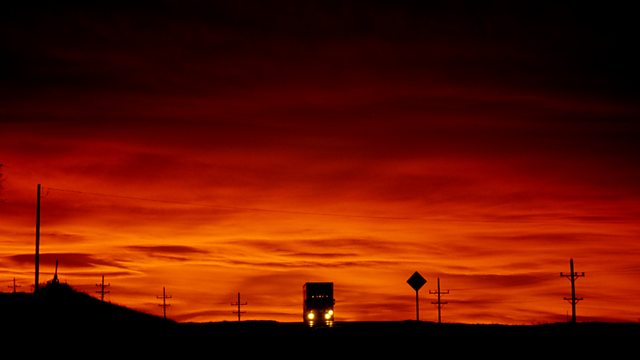 16/10/2012
Susan Sharpe presents a BBC Proms performance of Mozart's Requiem with the City of London Sinfonia and soloists Emma Bell, Ian Bostridge, Renata Pokupic and Henk Neven.
12:31 AM
Mozart, Wolfgang Amadeus [1756-1791]
Requiem in D minor K.626, compl. Sussmayr
Emma Bell (soprano), Renata Pokupic (contralto), Ian Bostridge (tenor), Henk Neven (baritone), Polyphony, City of London Sinfonia, Stephen Layton (conductor)
1:17 AM
Shostakovich, Dimitri (1906-1975)
Chamber Symphony for strings in C minor (Op.110a) arr. Rudolph Barshai from String Quartet no.8
The Slovenian Philharmonic String Chamber Orchestra, Andrej Petrac (Artistic leader)
1:40 AM
Bach, Johann Sebastian (1685-1750)
Cantata: 'Ich hatte viel Bekümmernis' (BWV.21)
Antonella Balducci (soprano), Frieder Lang (tenor), Fulvio Bettini (baritone), Solisti e Chorus of Swiss-Italian Radio and Ensemble Vanitas, Lugano, Diego Fasolis (conductor)
2:15 AM
Mozart, Wolfgang Amadeus (1756-1791)
Serenade in G major (K.525), 'Eine Kleine Nachtmusik'
BBC National Orchestra of Wales, Grant Llewellyn (Conductor)
2:31 AM
Suchoň, Eugen (1908-1993)
Nocturne for Cello and Orchestra
Ján Slávik (cello), Slovak Radio Symphony Orchestra in Bratislava, Mário Kosík (conductor)
2:46 AM
Kraus, Joseph Martin (1756-1792)
Quatre Intermèdes et Divertissements for Molière's comedy 'Amphitryon' (VB.27)
L'Arte del mondo, Werner Ehrhardt (conductor)
3:13 AM
Saint-Saëns, Camille (1835-1921)
Piano Concerto No.2 in G minor (Op.22)
Shura Cherkassky (piano), Sofia Philharmonic Orchestra, Konstantin Iliev (conductor)
3:38 AM
Saint-Saëns, Camille (1835-1921)
The Swan, from 'The Carnival of the Animals'
Gyözö Máté (viola), Balázs Szokolay (piano)
3:41 AM
Raitio, Väinö (1891-1945)
Joutsenet (Op.15) (1919)
Finnish Radio Symphony Orchestra, Okko Kamu (conductor)
3:50 AM
Schumann, Robert (1810-1856)
Introduction and Allegro appassionato (Op.92)
Ivan Palovic (piano), The Radio Bratislava Symphony Orchestra, Ondrej Lenard (conductor)
4:06 AM
Bach, Georg Christoph (1642-1703)
Siehe, wie fein und lieblich ist es - vocal concerto for 2 tenors, bass and instruments
Paul Elliott and Hein Meens (tenors), Stephen Varcoe (bass), Musica Antiqua Koln, Reinhard Goebel (director)
4:13 AM
Schubert, Franz (1797-1828) trans. Liszt, Franz
Ständchen arr. for piano - from Schwanengesang (D. 957)
Simon Trpceski (piano)
4:20 AM
Wieniawski, Henryk (1835-1880)
Polonaise in A major for violin & piano (Op.21)
Piotr Plawner (violin), Andrzej Guz (piano)
4:31 AM
Geminiani, Francesco (1687-1762)
Concerto Grosso in G minor
Academy of Ancient Music, Andrew Manze (director/violin)
4:39 AM
Kreisler, Fritz (1875-1962)
Nina, after 'Tre Giorni son che Nina' by Giovanni Pergolesi
The Hertz Trio
4:43 AM
Verdi, Giuseppe (1813-1901), arr. Liszt
Rigoletto (paraphrase de concert for piano) (S. 434)
Gyõrgy Cziffra (piano)
4:51 AM
Avison, Charles (1709-1770)
Concerto Grosso No.4 in A minor (after Domenico Scarlatti)
Tafelmusik, Jeanne Lamon (director)
5:05 AM
Sarasate, Pablo (1844-1908)
Fantasy after Bizet's 'Carmen' (Op.25)
Julia Fischer (violin), Bergen Philharmonic Orchestra, Christopher Warren-Green (conductor)
5:18 AM
Anonymous, arr. Percy Grainger (1882-1961)
O Danny Boy' - or Irish tune from County Derry
Camerata Chamber Choir, Michael Bojesen (conductor)
5:23 AM
Strauss, Johann Jr (1825-1899) arr. Berg, Alban (1885-1935)
Wein, Weib und Gesang (Wine, Woman and Song) - waltz
Canadian Chamber Ensemble, Raffi Armenian (conductor)
5:34 AM
Bach, Johann Sebastian (1685-1750), orch. Webern, Anton (1883-1945)
Fuga ricercata No.2 from Bach's 'Musikalischen Opfer' (BWV.1079)
Saarbrücken Radio Symphony Orchestra, Wolfgang Fortner (conductor)
5:45 AM
Mozart, Wolfgang Amadeus (1756-1791)
Quartet for strings in B flat major (K.458) 'Hunt'
Virtuoso String Quartet
6:12 AM
Stravinsky, Igor (1882-1971)
Three movements from Petrushka transcribed for solo piano by the composer
Alex Slobodyanik (piano).
Last on