Add music you love and enjoy it with
Rock Anthems Volume 2 (Various), Dino

Oasis

The Importance Of Being Idle

(CD Single), Big Brother Records

Roman Holliday

Don't Try To Stop It

Back To The Eighties (Various), Music Club

U2

Angel Of Harlem

U2 - The Best Of 1980-1990, Island, 12

a-ha

Take On Me

Fantastic 80's Disc 1 (Various Artis, Columbia, 1

The Drifters

Under The Boardwalk

Very Best Of Ben E.King & The Drifters, Global Television

Train & Ashley Monroe

Bruises

California 37, Columbia, 1

Hits Of 1971 & 1972 (Various Artists), Polydor

The White Album, Parlophone, 11

Andy Burrows

Because I Know That I Can

(CD Single), Play It Again Sam UK, 1

Crush (Various Artists), Polygram Tv

Queen

Bicycle Race

Jazz, Island, 4

Life In A Beautiful Light, Mercury
Pause for Thought

With Canon Anne Easter

You know I'm not really a sporty sort, so I can't say I was sorry when all the talk of cyclists, circuits and shot putting came to an end and we switched instead to sequins and sambas – YEY! I love dancing.

Christopher and I have run a few barn dances recently to celebrate harvest and of course I'm following Strictly – there are other dance programmes – when we can watch people who we usually know as comedians or newsreaders or cyclists leaving their comfort zone far behind to have a go at dancing.

For a while, when it was in the charts, half of the funeral services I conducted included somewhere the playing of 'I just called to say I love you' by Stevie Wonder and it was on one of those occasions when I think they must have used the disco version, because I'd said goodbye to all the mourners and Stevie was still going strong – when the funeral director came in to the chapel to say goodbye to me - and we just there and then launched into a sweeping foxtrot in the aisle……which was lovely except for when two of the mourners came back to look for an umbrella they'd left and saw us. The undertaker and me, both in full fig, smooching to the music. I think they were a bit taken aback!

It's so easy to think that we know exactly what people are like – the big one, the boring one, the smart one – and those who are given the labels can begin to believe that that's not only what they are, but all they are.

But when they get dancing and let themselves go a bit, be it stripping the willow or dad-dancing, suddenly timid Terry becomes el Toro and Beryl's burlesque side is revealed.

I think each and every one of us is unique, with the gifts and skills to be the stars God envisaged when God made us but all too often, life gets in the way and we forget how special we are – but a bit of bling and a boogie beat, and suddenly we're flying!
BBC Playlister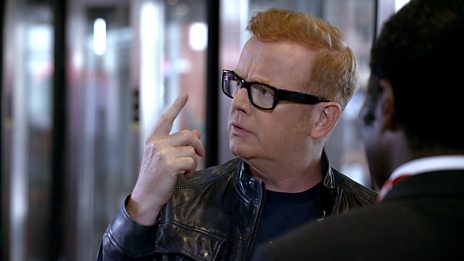 Chris has a song stuck in his head - but what is it? That's why he needs BBC Playlister!
500 WORDS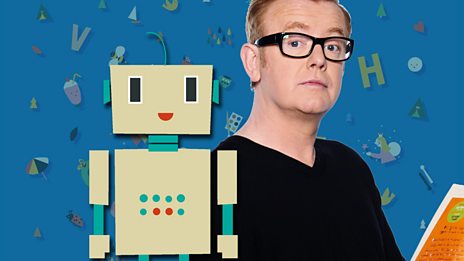 Featuring celebrity videos and top writing tips!
Podcast
Catch up with the latest Breakfast fun with Chris Evans. Hear the best stories and the biggest…