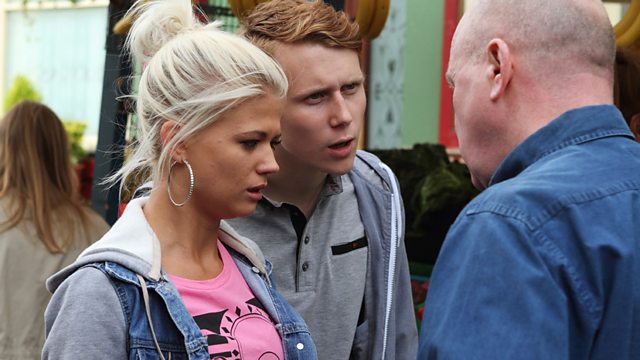 08/10/2012
Lola's scared and lost without Lexi and everyone has an opinion on her situation. After a pep talk from Cora, Lola and Billy visit Trish. Lola apologises and asks when Lexi can come home. Trish reveals it's not that straightforward, in the meantime there will be parenting classes and access visits for Lola; Lola gets angry and Trish warns her if she carries on like this she'll lose Lexi for good.
Phil's initially determined to establish whether Ben's Lexi's father, interrogating Lola, Abi and Christian but later insists to Jay he's not getting involved.
Derek gives Alice a mobile complete with tracking device. Poppy and Tanya give Alice a makeover, much to Derek's disgust. At the Vic, Derek reiterates his displeasure at Alice's new look and she leaves. Lauren accuses Derek of suffocating Alice, Tanya backs her up. Alice's mugged and knocked to the ground; Ray comes to her aid.
Syed assures Zainab things are better at the restaurant. Christian hands out lists of expensive pre-wedding jobs. At the Argee Bhajee, Syed's faced with a pile of final demands and a supplier who won't deliver. Masood decides he and Zainab should pay for Christian and Syed's honeymoon, telling Zainab they can take the money out of the Kamil and Tamwar account. In R&R, Syed hands Danny the envelope of cash Zainab gave him, he wants in on Danny's investment.
The Brannings plan a party for Abi. Tanya's thrilled at the thought of meeting Abi's new sixth form friends. Abi's sulky when Tanya suggests she's better off without Lola and Jay. Cora scolds Abi, she needs to help Lola. Abi asks Jay to be her boyfriend and he tells her he loves her.
Kat and Fat Boy sign Tamwar up for the Vic's open mic night.
Last on
Credits
| Role | Contributor |
| --- | --- |
| Lola Pearce | Danielle Harold |
| Billy Mitchell | Perry Fenwick |
| Phil Mitchell | Steve McFadden |
| Jay Mitchell | Jamie Borthwick |
| Abi Branning | Lorna Fitzgerald |
| Cora Cross | Ann Mitchell |
| Tanya Cross | Jo Joyner |
| Lauren Branning | Jacqueline Jossa |
| Alice Branning | Jasmyn Banks |
| Derek Branning | Jamie Foreman |
| Joey Branning | David Witts |
| Christian Clarke | John Partridge |
| Syed Masood | Marc Elliott |
| Tamwar Masood | Himesh Patel |
| Zainab Khan | Nina Wadia |
| Executive Producer | Lorraine Newman |
| Director | Steve Finn |
| Writer | Matt Evans |
| Masood Ahmed | Nitin Ganatra |
| AJ Ahmed | Phaldut Sharma |
| Denise Fox | Diane Parish |
| Kat Moon | Jessie Wallace |
| Ray Dixon | Chucky Venn |
| Poppy Meadow | Rachel Bright |
| Arthur 'Fat Boy' Chubb | Ricky Norwood |
| Danny Pennant | Gary Lucy |
| Trish Barnes | Tessa Churchard |