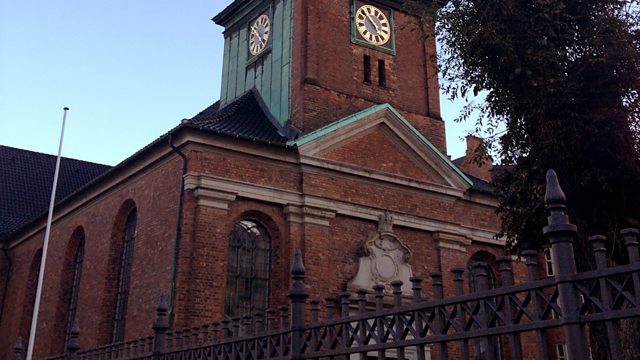 BBC Singers
Recorded in the Garrison Church, Copenhagen
The BBC Singers, conducted by David Hill, in a choral concert from their Scandinavian tour
Thomas Tallis: Missa Salve Intemerata
Mogens Pederson: Motets
William Byrd: Laudibus in Sanctis
Thomas Schattenberg: Motets
Michael Tippett: Dance, Clarion Air
Henry Purcell/Sven-David Sandström: Hear my prayer, O Lord
Bob Chilcott: My Prayer
Gabriel Jackson: Choral Symphony (BBC commission; broadcast premiere)
Recorded last week on their Scandinavian tour, the BBC Singers perform choral works from the 16th century as well as our own day, with a particular focus on music evoking the sights, sounds and places of the City of London.
In part one, music by the two greatest composers of Elizabethan London - Thomas Tallis and William Byrd - is placed alongside works by two Danish contemporaries. Mogens Pederson studied with Giovanni Gabrieli and later visited London with the court of the Danish King, while Thomas Schattenberg was for many years an organist in the Danish capital.
Following that, a work by Michael Tippett celebrating the Coronation of Elizabeth II is the cue for music by a famous Londoner of the 17th century - Henry Purcell, performed in modern reworkings by Sven-David Sandström and Bob Chilcott. And the programme is completed by a piece celebrating the City itself: the new work by BBC Singers' Associate Composer Gabriel Jackson (receiving its premiere performances on this tour) is a four-movement symphony for unaccompanied voices which celebrates both London itself and its vibrant multiculturalism.
Last on