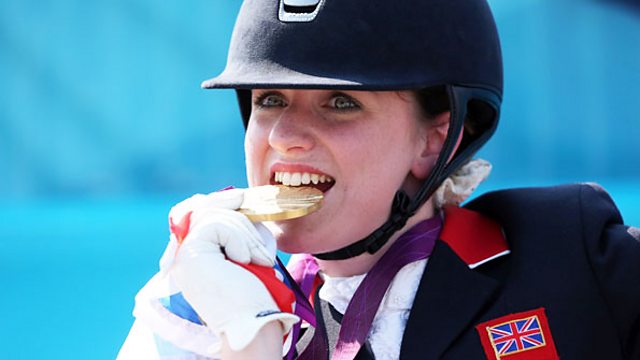 Natasha Baker; Knitwear; First Period
Listen in pop-out player
Natasha Baker, a Para Dressage rider, on her experience of the Paralympics. A girl's first period - how to celebrate? Hannah Rochell and Emmanuel Dirix discuss winter woolies. Are family friendly policies under threat for Civil Servants? An internal document asks for a rethink on annual leave, sick pay and childcare working conditions to make them 'more like those of the private sector'. Jane is joined by Preethi Sundaram from the Fawcett Society and Mark Wallace from the Institute of Directors. And a new report says that women over 65 are not getting the surgical treatment they need - particularly for breast cancer and gall stones. Jane is joined by Michelle Mitchell from Age Uk to talk about health care for an ageing population.
Presented by Jane Garvey
Produced by Sarah Crawley.
Last on
Natasha Baker
Twenty-two year old dressage rider Natasha Baker won two Gold medals and broke a new Paralympian record in the freestyle, with her horse Cabral at London 2012. When we spoke to her earlier this year, as part of our Paralympic hopefuls series, her dream was to win one gold medal. She talks to Jane Garvey about her win, equestrian dressage and the legacy of the games.
Family friendly employment in the public sector under threat
Last week the Guardian reported a leaked letter sent to all civil service HR directors asking them to outline plans to make working conditions 'more like those of the private sector'. It is suggested that several aspects of working life are open to change including a number of family-friendly policies such as childcare, compressed hours working and working from home. Women have made up more than half of civil servants since 2001, with their number increasing year on year. Will family friendly employment take a step backwards for civil servants? Are there wider implications for other public sector employers? Jane Garvey is joined by Preethi Sundaram, Policy and Campaigns Manager for the Fawcett Society and Mark Wallace, Head of Media Relations at the Institute of Directors.
Would you want to celebrate having your first period?
Entrepreneur Samantha Kelly has set up a business selling gift packs for girls who've just started their periods and anthropologist Tamsin Bradley has studied the rituals around menstruation. Is getting your first period something to celebrate? Did you celebrate your first period as a coming of age milestone or as something you'd just rather keep quiet about? Tell us your views
Is knitwear a new trend this Autumn?
Knitwear is proving to be a big hit with all the leading fashion houses this Autumn, and there's a whole new crop of young designers specialising in these products. Fashion writer Hannah Rochell and fashion lecturer Emmanuel Dirix discuss.  
Why older women are not getting surgical treatment
Older women are being denied surgical treatment according to a new report by Age UK. Access All Ages shows that when it comes to conditions like breast cancer and gall stones women over the age of 65 are less likely to receive surgery than their younger counter parts. Research by MacMillan Cancer Support also backs this up. So why are older women less likely to receive surgical treatment and what impact does this have on an ageing population? Michelle Mitchell from Age UK joins Jane Garvey.