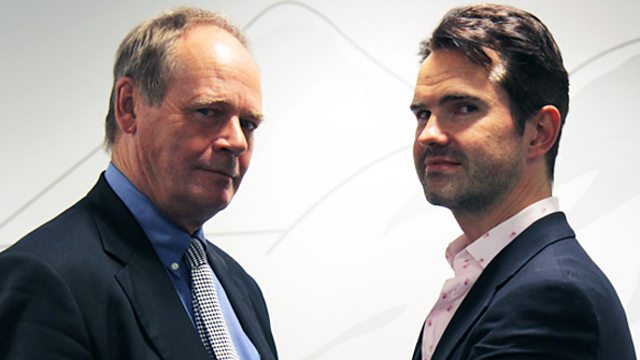 Ker, Stephenson Connolly, Geim
The Museum of Curiosity is hosted as ever by the Professor of Ignorance at the University of Buckingham, Professor John Lloyd C.B.E. (of Not The Nine O'Clock News, Spitting Image, Blackadder and QI fame). For this fifth series, he is joined by the comedian Jimmy Carr.
Each week, the Museum invites three guests, a mixture of entertaining experts and expert entertainers, to donate one item each to the Museum and explain why it deserves a place in the museum. Ever since someone gave the Museum the Big Bang it's been expanding at an alarming rate, and now there's no looking back without the aid of a huge telescope.
This week, John and Jimmy have invited along comedian Humphrey Ker, sex therapist, comedian and author Dr Pamela Stephenson-Connolly and Nobel Physics Laureate Professor Sir Andre Geim.
Guests booked for the rest of the series include:
Physicist and broadcaster Dr Helen Czerski
Expert on Ancient Mesopotamia Dr Irving Finkel
Magician/actor/comedian Andy Nyman
Anatomist author and broadcaster Professor Alice Roberts
Comedian Sean Hughes
Ig Nobels Prize founder Marc Abrahams
Astronaut Buzz Aldrin.
Last on
Video: introducing The Museum of Curiosity