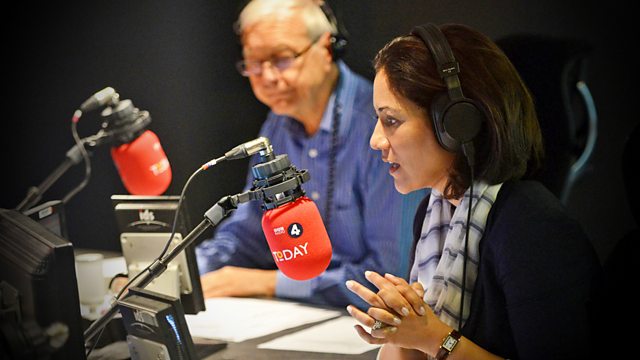 12/10/2012
Morning news and current affairs presented by John Humphrys and Justin Webb, including:
0748
A man has received a total sentence of eight months after wearing a t-shirt emblazoned with hand written offensive comments about the murders of two policewomen killed in the line of duty. John Cooper QC, leading criminal and human rights barrister, and Ian Hanson, chair of the Greater Manchester Police Federation debate the justification for the arrest.
0810
As British Gas announces a 6% rise in its gas and electricity tariffs, its managing director Phil Bentley explains the reasons behind the move.
0816
A controversial badger pilot cull is likely to begin. Tom Feilden explains that the cull will have to start in the next few days if it is going to be completed before the badgers go to ground for the winter and David Heath, Liberal Democrat agriculture minister explains why the government has issued two new licences for pilot culls.
0823
The winner of the country's leading literary prize, the Man Booker, is announced next week and in the run-up to the award, Today will be talking to the six authors who have been selected for the shortlist. The BBC's arts correspondent Rebecca Jones spoke to Alison Moore about her book The Lighthouse from her home near Nottingham.
Last on