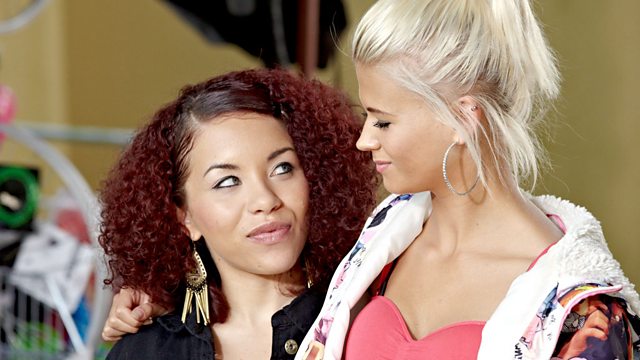 02/10/2012
Alfie's unhappy with the new Vic decor. Kat gets a text and deletes it – it's just a pizza offer, but Alfie's suspicious. He persuades Phil to give them a week's notice. Alfie notes Kat's concern on learning of Janine's departure, then witnesses a seemingly intimate moment between Kat and Michael on the Square. His paranoia grows when Kat explains she saw Michael on the night they left; Alfie asks if Michael was her lover. Although Kat denies it, Alfie's distraught – he can't do this.
Michael tries to leave Scarlett with Lauren, then Jack. Kat's concerned but Michael claims he finished with Janine, showing Kat her wedding and engagement rings. Alfie warns Roxy that Michael's using her, who then leaves Scarlett with her with no explanation. Michael discovers Lola's cleaning business and rages that she stole from Butcher's Joints; Lola insists Janine didn't want it. Deflated, Michael returns home, where Roxy accuses him of using her. Michael tries to kiss Roxy. She storms out, leaving him with Scarlett.
Lexi's been awake all night; Lola leaves her at home while she attends a parenting class. The instructor regrets she'll have to tell Trish. Lola encounters Alexa, a friend from care, with her gang. The girls steal from the Minute mart and cause trouble in the café. Lola's uncomfortable. Alexa mocks Abi; Lola sides with Abi when Alexa insists she choose. Lola wants to treat Lexi, and Kat agrees she can clean the barrel store.
Cora's bemused by Tanya's hatred of Derek. Tanya reveals he threatened her. Max confronts Derek, who warns 'they' require more money. Phil agrees to supply more cars, but someone else needs to do the dirty work. Max employs Jay and vows to Tanya he won't have Derek mistreat her.
Phil picks Dennis up from school, and enjoys showing him Ben's old toys.
Last on
Credits
| Role | Contributor |
| --- | --- |
| Kat Moon | Jessie Wallace |
| Alfie Moon | Shane Richie |
| Michael Moon | Steve John Shepherd |
| Roxy Mitchell | Rita Simons |
| Phil Mitchell | Steve McFadden |
| Sharon Rickman | Letitia Dean |
| Dennis Rickman | Harry Hickles |
| Max Branning | Jake Wood |
| Tanya Cross | Jo Joyner |
| Abi Branning | Lorna Fitzgerald |
| Lola Pearce | Danielle Harold |
| Billy Mitchell | Perry Fenwick |
| Derek Branning | Jamie Foreman |
| Jack Branning | Scott Maslen |
| Jean Slater | Gillian Wright |
| Alexa | Saffron Coomber |
| Chantelle | Kelsey Hardwick |
| Gillian | Sharon Cherry Ballard |
| Executive Producer | Lorraine Newman |
| Director | Karl Neilson |
| Writer | Sally Abbott |