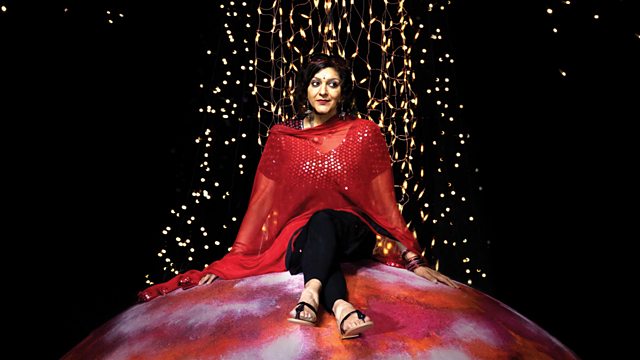 Meera Syal, Don Warrington, Jesse Armstrong, Felix Dennis, Cowbell and Garland Jeffreys
Notorious entrepreneur Felix Dennis swaps publishing for poetry, pounds for prose and tells Clive about his extraordinary life as a multimillionaire magazine magnate and his subsequent literary incarnation. The documentary'Felix Dennis: Millionaire Poet' is on Sky Arts 2 and Sky Go on Wednesday 10th October at 2100.
Clive hitches a ride with actor Don Warrington, who rose to fame as smooth-mannered student Philip in hit seventies sitcom 'Rising Damp'. Now he plays Hoke Coleburn in 'Driving Miss Daisy' - the chauffeur of Jewish widow Daisy Werthan. What begins as a hostile pairing soon blossoms into a profound friendship. 'Driving Miss Daisy' tour starts on Wednesday 10th October at the Yvonne Arnaud Theatre, Guildford.
Arthur Smith strips off with 'Peep Show' comedy writer Jesse Armstrong. He and writing partner Sam Bain recently focused on Freshers for 'Fresh Meat', a series about the hilarious, and often painful truths of being a student. Their new book 'Fresh Meat: The Essential Guide for New Undergraduates' records every disgusting, exciting, tragic and triumphant detail of student life.
Clive enjoys a Bhaji on the Beach with comedian and actress Meera Syal who is now starring as Beatrice in Royal Shakespeare Company's 'Much Ado About Nothing'. Beatrice and Benedick are locked into a love-hate relationship and tricked into confessing their love for each other. Goodness Gracious Me! 'Much Ado About Nothing' is at London's Noel Coward Theatre until Saturday 27th October.
With moosic from rock n roll duo Cowbell, who perform 'Hanging By A Thread' from their album 'Beat Stampede'.
And the grand seignior of urban poetry, New York music legend Garland Jeffreys performs one of his classic tracks 'New York Skyline'.
Producer: Cathie Mahoney.
Last on
Listen to Loose Ends anytime, anywhere.