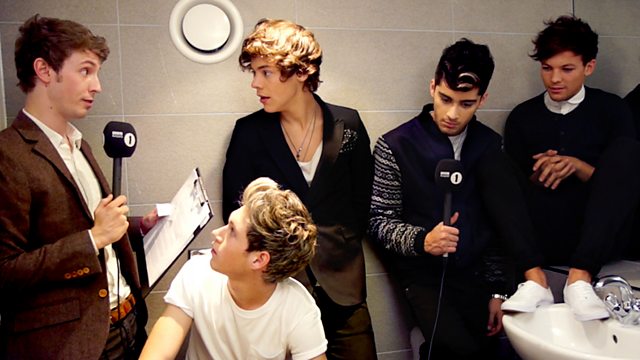 Episode 77 - Teen Awards Special with One Direction
One Direction, Fun, Little Mix, Conor Maynard, Jorgie Porter & Kimberly Wyatt all join Matt in the backstage toilets at The Teen Awards to answer questions from the Radio 1 Tombola Of Every Question Ever Asked I The History Of Radio 1 Ever. None of those questions or answers were made up by Matt... honest.
Hear what voices One Direction would give to a puppet if they had one and what the rudest thing Harry Styles has ever seen on the internet, find out if Little Mix know what a phantom poo is and which cartoon character they fancy, see Fun get scared by a haunted light and discover who Conor Maynard has been perving on, on facebook.
Matt also has a look at some of the funny highlights you might have missed. Find out which DJ didn't quite get the concept of a free ticketed event, see if Ne-Yo can make the catchphrase nothing wrong with the funky chicken catch on and find out a NEAR EXCLUSIVE about Harry Styles.
Imagine the best thing you could ever hear. Now lower your expectations. This programme may include strong language.