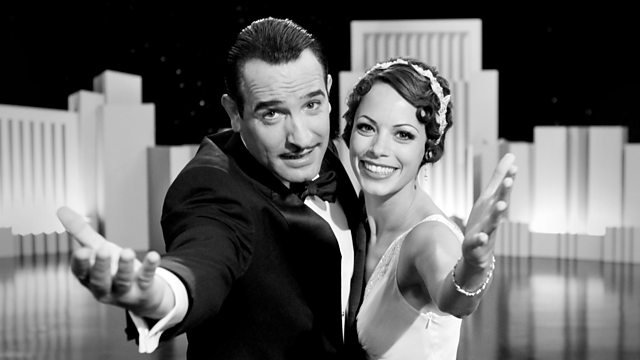 The Artist
Award-winning comedy drama. When upcoming actress Peppy Miller meets George Valentin, the most celebrated silent movie actor in Hollywood, and gets a part in his latest film, she can't believe her luck. The year is 1927 and with the advent of the talkies, their careers spiral in opposite directions.
BBC iPlayer - The Artist
This programme is only on BBC iPlayer for 7 days after broadcast, and cannot be downloaded, only streamed. We always aim to offer our programmes to stream and download for 30 days; however for a number of reasons including technical problems, legal or contractual issues this isn't always possible.
The Artist: Mark Kermode's review
"You've got the sound guy telling everybody to 'shut up'"
Credits
| Role | Contributor |
| --- | --- |
| Director | Michel Hazanavicius |
| George Valentin | Jean Dujardin |
| Peppy Miller | Berenice Bejo |
| Al Zimmer | John Goodman |
| Clifton | James Cromwell |
| Doris | Penelope Ann Miller |
| Constance | Missi Pyle |
| Peppy's Maid | Beth Grant |
| Peppy's Butler | Ed Lauter |
| Policeman Fire | Joel Murray |
| Norma | Bitsie Tulloch |
| Butler | Malcolm McDowell |
| Writer | Michel Hazanavicius |
| Producer | Thomas Langmann |
Neil Brand reviews The Artist