Add music you love and enjoy it with
The Ivor Novello Winners, EMI

This Year's Love (Various Artists), Global Television

Magical Mystery Tour, Parlophone, 1

Captain & Tennille - Scrapbook, Spectrum

The Love Album (CD 1) (Various Artist, Virgin

Madness

It Must Be Love

The 80's Love Album (Various Artists, Virgin

Walk On - Hits From The Last 2 Decade, Columbia

The Very Best Of Harry Belafonte, Music Club

Train & Ashley Monroe

Bruises

California 37, Columbia, 1

Fifty Number Ones Of The 60's (Variou, Global Television

Incognito

Don't You Worry 'bout A Thing

(CD Single), Talkin' Loud

Wizzard

See My Baby Jive

25 Years Of Rock `n' Roll - 1973, Connoisseur

The Dusty Springfield Anthology, Mercury

Barry White

You See The Trouble With Me

Barry White - The Collection, Mercury, 2

The Very Best Of Cat Stevens, Island

(CD Single), 14th Floor Records

Rod Stewart - Vagabond Heart, Warner Bros

(CD Single), Fascination, 1
Pause for Thought

With Baroness Julia Neuberger, Senior Rabbi at the West London Synagogue.

We're in the middle of Sukkot, the festival of Tabernacles, this week, when we Jews build temporary shelters- called a sukkah- with branches and leaves over the top but gaps so we can see the sky. We have our meals in them and recognise how temporary life is. Sukkot is a bit harvest festival- we bring fruit and flowers and distribute what's brought to people who need help; it's a bit about impermanence, being always on the move, never having a permanent home, reminding us we were wanderers in the wilderness after leaving Egypt. It reminds us of more modern history too- so many of our parents and grandparents came to this country and elsewhere seeking asylum, fleeing persecution in Nazi Germany or Tsarist Russia. So impermanence is something that we know all too well. But along with the joy in plenty and the recognition of life's impermanence, there's a third element- there's a strange legend that we are able to invite in all the guests we want- including some called the ushpizin, the great heroes of the Bible, traditionally Abraham, Isaac, Jacob, Joseph, Moses, Aaron, and David, a different one for each night of the festival. I've always thought that this is one of the most powerful messages of Sukkot- in this temporary shelter, cold, often wet, very basic- we can invite the greatest of heroes of the past and anyone we want to from the present. Whoever you are, you can share your food with the grandest and most powerful. It's the quality of your hospitality that counts, not the cost of the crockery and cutlery, or the grandeur of the food. So, for me, sukkot is about hospitality….. the warmest of welcomes, the opening of the sukkah to all, the celebration of plenty. But it's also about recognising that not everyone has that plenty, so we'd better alleviate hunger where we can.
BBC Playlister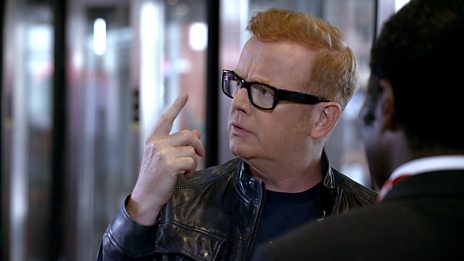 Chris has a song stuck in his head - but what is it? That's why he needs BBC Playlister!
500 WORDS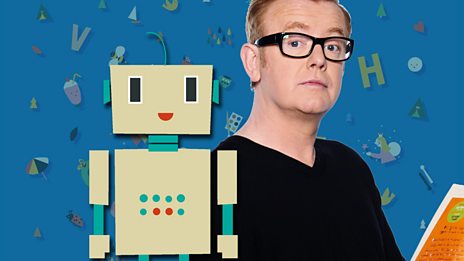 Featuring celebrity videos and top writing tips!
Free download
Catch up with the latest Breakfast fun with Chris Evans. Hear the best stories and the biggest…