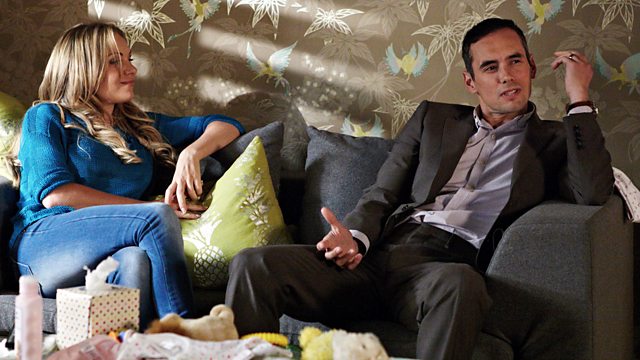 25/09/2012
Christian and Syed decide to get married at the Argee Bhajee. Masood sees Syed selling cleaning products to Lola, then learns from AJ that a deal Syed had with Michael fell through. Masood talks his way in to Syed's lock-up and finds it full of cleaning products. Later, Syed discovers Masood's security pass in the lock up. He calls a contact and sells his stock for a rock bottom price. Masood looks through the Argee Bhajee books. For dinner, the Masoods sample dishes cooked by the new chef. Masood accuses Syed of lying about the cleaning products. Syed shows him a cheque, claiming it's just a deposit; he'll put what he makes from the sale into the restaurant. Tamwar mentions 'his' mistake regarding the missing cheque stub, Syed says that's why he didn't want Masood to look through the books. Zainab makes Masood apologise. Syed's left guilt-ridden when Masood insists he'll never doubt him again.
Michael gives a private investigator, Jenny, photos and information about Janine. Hung over and ashamed, Roxy has to face a chirpy Zainab at the Masoods'. Roxy collects Amy from Jack; they bicker about each other's conquests. Michael rushes out of the baby clinic after a barrage of questions from the health visitor. Roxy makes it clear to AJ there won't be a repeat of the previous night. After exchanging childcare tips Michael cooks Roxy dinner.
Phil apologises to Sharon. She's adamant she's not coming back to work in the pub. Phil decides to redecorate the Vic upstairs. Sharon locks two pots of pills in a filing cabinet and gives Joey the key.
Lola bargains with Syed for some floor cleaner. He delivers it in the middle of Lola's visit from the youth offenders' officer and Lola's grateful when Patrick claims it's for the B&B.
Last on
Credits
| Role | Contributor |
| --- | --- |
| Syed Masood | Marc Elliott |
| Masood Ahmed | Nitin Ganatra |
| Zainab Khan | Nina Wadia |
| Tamwar Masood | Himesh Patel |
| AJ Ahmed | Phaldut Sharma |
| Roxy Mitchell | Rita Simons |
| Michael Moon | Steve John Shepherd |
| Lola Pearce | Danielle Harold |
| Patrick Trueman | Rudolph Walker |
| Jay Mitchell | Jamie Borthwick |
| Phil Mitchell | Steve McFadden |
| Sharon Rickman | Letitia Dean |
| Jack Branning | Scott Maslen |
| Jean Slater | Gillian Wright |
| Joey Branning | David Witts |
| Arthur 'Fat Boy' Chubb | Ricky Norwood |
| Christian Clarke | John Partridge |
| Samina Anwar | Sheena Bhattessa |
| Caroline | Charlotte Allam |
| Jenny Gunn | Marnie Baxter |
| Executive Producer | Lorraine Newman |
| Director | Piotr Szkopiak |
| Writer | Peter Mattessi |