Kahler-Jex
Before the Doctor strolled into town, the people of Mercy viewed Kahler-Jex as a good man – he was the engineer who gave them heat and the physician who saved lives…
Kahler-Jex's spacecraft crashed about a mile outside Mercy and he later reflected he would have died if Isaac and some of the other townsfolk hadn't pulled him from the wreckage. He remained in Mercy, nudging its population up to 81. That figure would have plummeted two years after his arrival due to an outbreak of cholera. But back on his home planet, Kahler-Jex had been a doctor, and keen to repay his debt to the humans who had saved him, he was able to deal with the infection without losing a single patient. And using his crashed ship as a generator he rigged up some rudimentary lighting and heating for the town – bringing electricity to Mercy years before it was available elsewhere on Earth.
"But here I could start afresh…Kahler-Jex
Kahler-Jex's life was thrown into turmoil when the Gunslinger appeared. This dark and ominous figure demanded that the townsfolk hand him over. Some said they should. But others followed Isaac's lead and stood by the man who had helped them so much. And therefore, unable to escape the Gunslinger, the doctor took refuge in the marshal's cells… in so many ways, he became a prisoner of Mercy. But what happened next changed everything for Jex…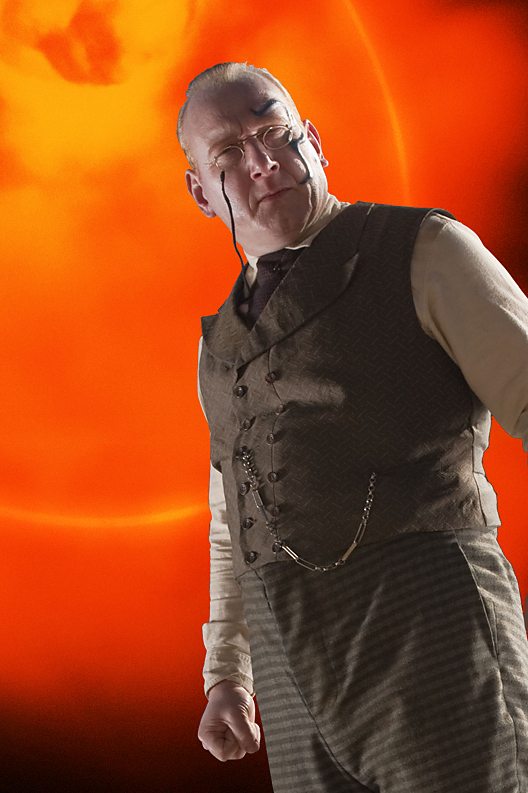 Related Content
The Doctor gets a Stetson (and a gun!), and finds himself a reluctant sheriff.