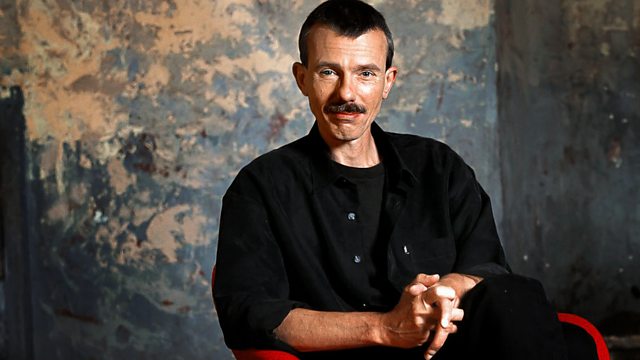 25/09/2012
Presented by Jonathan Swain.
A concert from the Luxembourg Philharmonic featuring Nicholas Angelich in Brahms's Second Piano Concerto plus Tchaikovsky's Symphony no.2, conducted by Emmanuel Krivine.
12:31 AM
Brahms, Johannes [1833-1897]
Concerto no. 2 in B flat major Op.83 for piano and orchestra
Nicholas Angelich (piano), Luxembourg Philharmonic Orchestra, Emmanuel Krivine (conductor)
1:22 AM
Tchaikovsky, Peter Ilyich [1840-1893]
Symphony no. 2 in C minor Op.17 (Little Russian)
Luxembourg Philharmonic Orchestra, Emmanuel Krivine (conductor)
1:56 AM
Lysenko, Mykola (1842-1912)
Cheruvymska (Song of the Cherubim)
Svitych Chorus of the Nizhyn State Pedagogical University, Lyudmyla Shumska (director)
2:00 AM
Mozart, Wolfgang Amadeus (1756-1791)
Piano Sonata in B flat major, K.333
Evgeny Rivkin (piano)
2:17 AM
Debussy, Claude (1862-1918)
Sonata for Cello and Piano in D Minor
Ola Karlsson (cello), Lars-David Nilsson (piano)
2:31 AM
Beethoven, Ludwig van [1770 -1827]
Piano Trio in B flat (Op.97) "Archduke"
Beaux Arts Trio
3:13 AM
Berwald, Franz (1796-1868)
Septet in B flat
Kristian Möller (clarinet), Frederik Ekdahl (bassoon), Ayman Al Fakir (horn), Roger Olsson (violin), Linn Löwengren-Elkvull (viola), Hanna Thorell (cello), Mattias Karlsson (double bass)
3:34 AM
Palestrina, Giovanni Pierluigi da (c.1525-1594)
Magnificat primi toni for 4 voices
Marco Beasley and Davide Livermoore (tenors), Fabian Schofrin and Annemieke Cantor (altos), Daniele Carnovich (bass), Diego Fasolis (conductor)
3:42 AM
Muffat, Georg (1653-1704)
Sonata, Ballo (Allegro), Grave, Presto & Menuet (Allegro), from Concerto No.XI in E minor 'Delirium amoris'
L'Orfeo Barockorchester, Michi Gaigg (director)
3:49 AM
Chopin, Fryderyk [1810-1849]
Waltz for piano (Op.64 No.2) in C sharp minor
Zoltán Kocsis (piano)
3:52 AM
Auber, Daniel-Francois-Esprit (1782-1871)
Bolero - Ballet music no.2 from 'La Muette de Portici'
Slovak Radio Symphony Orchestra, Ondrej Lenard (conductor)
4:00 AM
Schumann, Robert (1810-1856)
Adagio and allegro in A flat (Op.70)
Li-Wei (cello), Gretel Dowdeswell (piano)
4:09 AM
Reutter, Johann Georg (1708-1772)
Ecce quomodo moritur justus
Capella Nova Graz, Otto Kargl (conductor)
4:17 AM
Stenhammar, Wilhelm (1871-1927)
Excelsior! - Symphonic overture (Op.13)
Oslo Philharmonic Orchestra, Vassily Sinaisky (conductor)
4:31 AM
Mozart, Wolfgang Amadeus (1756-1791)
Overture - The Abduction from the Seraglio
Norwegian Radio Orchestra, Milan Horvat (conductor)
4:37 AM
Handel, Georg Frideric (1685-1759)
Trio Sonata in G major (Op.5 No.4)
Tafelmusik Baroque Soloists
4:51 AM
Holst, Gustav (1874-1934)
Ave Maria
Chamber Choir AVE, Andraz Hauptman (conductor)
4:57 AM
Vaughan Williams, Ralph (1872-1958)
Fantasia on a theme by Thomas Tallis for double string orchestra
BBC Philharmonic, Yan Pascal Tortelier (conductor)
5:12 AM
Françaix, Jean (1912-1997)
L'Heure du berger
Festival of the Sound Ensemble, James Campbell (conductor)
5:20 AM
Liszt, Franz (1811-1886)
Hungarian Rhapsody No.2 (S.244 No.2) in C sharp minor
Jenö Jandó (piano)
5:32 AM
Strauss, Richard (1864-1949)
Der Bürger als Edelmann (Le Bourgeois gentilhomme) - suite (Op.60)
Norwegian Chamber Orchestra, Terje Tønnesen (conductor)
6:09 AM
Schumann, Robert (1810-1856)
Fantasiestücke, Op.73
Aljaz Begus (clarinet), Svjatoslav Presnjakov (piano)
6:20 AM
Schoenberg, Arnold (1874-1951)
Erwartung - No.1 from 4 lieder (Op.2)
Arleen Auger (soprano), Irwin Gage (piano)
6:24 AM
Bolcom, William Elden [1938-]
The Graceful Ghost - from 3 Ghost Rags (1970)
Donna Coleman (piano).
Last on