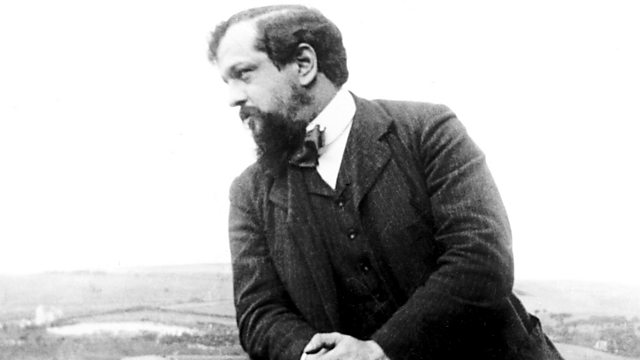 24/09/2012
Piano Season on the BBC: Archive recordings of performances by Claude Debussy, Clara Haskil, Camille Saint-Saëns and Aldo Ciccolini. Presented by Jonathan Swain.
12:31 AM
Poulenc, Francis [1899-1963]
Concerto for 2 pianos and orchestra in D minor
Katia Labèque (piano), Marielle Labèque (piano), BBC Symphony Orchestra, Jiri Belohlavek (conductor)
12:50 AM
Debussy, Claude (1862-1918)
Danseuses de Delphes; Le vent dans la plaine; Minstrels (Preludes Book 1)
Claude Debussy (piano)
12:57 AM
Mozart, Wolfgang Amadeus [1756-1791]
Concerto for piano and orchestra no. 19 (K.459) in F major
Clara Haskil (piano) Lausanne Chamber Orchestra, Victor Desarzens (conductor)
1:25 AM
Saint-Saëns, Camille [1835-1921]
Reverie à Blidah from "Suite Algerienne"
Camille Saint-Saëns (piano)
1:30 AM
Chopin, Frédéric (1810-1849)
Andante Spianato and Grande Polonaise brillante (Op.22)
Janina Fialkowska (piano), Kitchener-Waterloo Symphony Orchestra, Raffi Armenian (conductor)
1:45 AM
Delibes, Leo (1836-1891), trans. Arthur Nikisch (1855-1922)
Valse lente from 'Coppelia'
Arthur Nikisch (piano)
1:49 AM
Saint-Saëns, Camille (1835-1921)
Concerto for piano and orchestra no.5 (Op.103) in F major 'Egyptian'
Pascal Rogé (piano), UNAM Philharmonic Orchestra, Ronald Zollman (conductor)
2:17 AM
Ravel, Maurice (1875-1937)
Sonatine
Aldo Ciccolini (piano)
2:31 AM
Milhaud, Darius (1892-1974)
Violin Concerto no.2 (Op.263)
Dene Olding (violin), Melbourne Symphony Orchestra, Hiroyuki Iwaka (conductor)
2:57 AM
Rameau, Jean-Philippe (1683-1764)
Nouvelles suites de pièces de clavecin où Seconde livre (1728)
Annamari Pölhö (harpsichord)
3:19 AM
Poulenc, Francis (Jean Marcel) (1899-1963)
7 chansons, for mixed choir a cappella
Swedish Radio Choir, Pär Fridberg (conductor)
3:32 AM
Brahms, Johannes (1833-1897)
Academic Festival Overture, Op.80
Estonian Radio Symphony Orchestra, Peeter Lilje (conductor)
3:44 AM
Bach, Johann Sebastian (1685-1750) arr. Mozart
Adagio & Fugue in G minor (after BWV 883)
Benjamin Nabarro (violin), Simon Crawford-Phillips (piano), Leopold String Trio
3:50 AM
Casella, Alfredo (1883-1947)
Sicilienne and Burlesque (1914)
Kathleen Rudolph (flute), Rena Sharon (piano)
3:59 AM
Boccherini, Luigi (1743-1805)
Minuet for Strings
Varazdin Chamber Orchestra, David Geringas (conductor)
4:04 AM
Anonymous
3 Sephardic Romances
Montserrat Figueras (soprano), Hespèrion XX, Jordi Savall (director)
4:13 AM
Bersa, Blagoje (1873-1934)
Suncana Polja
Zagreb Philharmonic Orchestra, Kazushi Ono (conductor)
4:31 AM
Bouwman, Nicolaas Arie (1854-1941)
Thalia - Ouverture for wind orchestra
Dutch National Youth Wind Orchestra, Jan Cober (conductor)
4:40 AM
Zelenka, Jan Dismas (1679-1745)
De profundis (Psalm 129) in D minor
Virtuosi di Praga, Czech Chamber Choir, Petr Chromcak (conductor)
4:50 AM
Rachmaninov, Sergey (1873-1943) arr. Alan Arnold
Vocalise (Op.34 No.14) for viola and piano
Gyozo Máté (viola), Balázs Szokolay (piano)
4:55 AM
Handel, Georg Frideric (1685-1759)
Music for the Royal Fireworks
Collegium Aureum
5:18 AM
Wagner, Richard (1813-1883)
Rienzi Overture
Zagreb Philharmonic, Lovro von Matacic (conductor)
5:31 AM
Ravel, Maurice (1875-1937)
Berceuse sur le nom de Gabriel Fauré
James Ehnes (violin), Wendy Chen (piano)
5:35 AM
Fauré, Gabriel (1845-1924)
Pelleas et Melisande - suite (Op.80)
BBC Philharmonic, Yan Pascal Tortelier (conductor)
5:51 AM
Vivaldi, Antonio (1678-1741)
Kyrie eleison in G minor for double choir and orchestra (RV.587)
Choir of Latvian Radio, Riga Chamber Players, Sigvards Klava (conductor)
6:02 AM
Dvorák, Antonín (1841-1904)
Scherzo Capriccioso (Op.66)
Orchestre du Conservatoire de Musique du Quebec, Raffi Armenian (conductor)
6:17 AM
Villa-Lobos, Heitor (1887-1959)
Bachianas Brasileiras No.5 (Aria (Cantilena), Dance (Martel))
Isabel Bayrakdarian (soprano), Bryan Epperson, Maurizio Baccante, Roman Borys, Simon Fryer, David Hetherington, Roberta Jansen, Paul Widner, Thomas Wiebe, Winona Zelenka (cellos).
Last on