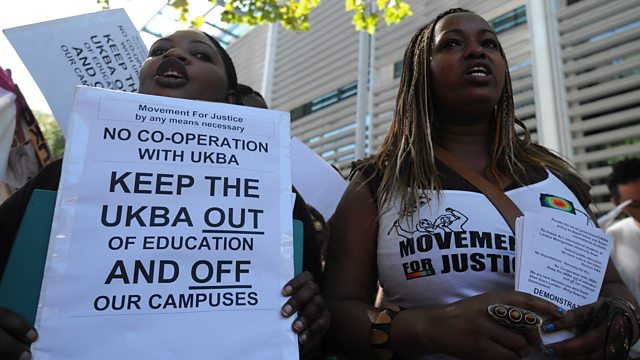 Visa Trouble at London Metropolitan University
Listen in pop-out player
The UK Border Agency recently revoked London Metropolitan University's licence to sponsor overseas students, meaning that it can no longer recruit or continue to teach current students.
According to the Government, the UKBA found systemic failings in the way the university managed its records. It found that many students did not have permission to study in the UK, did not have the correct English language or academic qualifications, while in other cases there was not enough evidence students were attending their courses.
London Met on the other hand does not recognise these problems, and is taking legal against the UKBA's decision.
Wesley Stephenson asks why the licence was revoked. Has London Met been lax in its recruitment and monitoring of students, or has it fallen victim of a complicated visa system? Why did the UKBA act now? Was there overwhelming evidence of systemic failings, or was there political pressure to take tough action?
Last on
Simon Cox investigates overseas donations to British universities.
Featured in...
Investigating the impact of immigration in the UK and immigration policy.

From free schools to university fees, The Report investigates education in Britain.