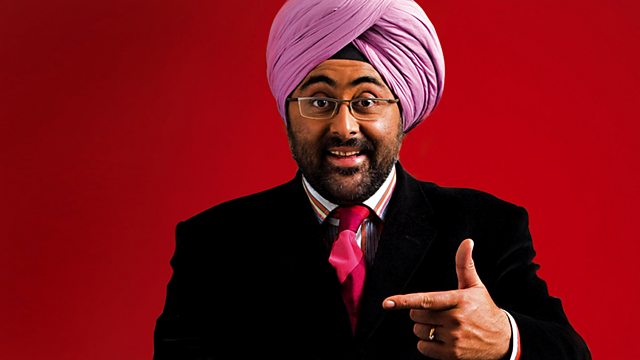 Hardeep Singh Kohli, Dr Pamela Stephenson, Alan Root, Barbara Hulanicki, Nadine Mortimer-Smith
Listen in pop-out player
Hardeep Singh Kohli meets Dr Pamela Stephenson, wildlife film-maker Alan Root, creator of Biba, Barbara Hulanicki and soprano Nadine Mortimer-Smith.
Soprano Nadine Mortimer-Smith is an opera singer and founder of Opera in Colour. She had a promising and secure career in the City but five years ago gave it all up to pursue her passion for opera. In 2009 she won 'Most Promising Voice' at the Voice of Black Opera competition. She will be performing in Naked Opera at the Forge in London.
Alan Root OBE is an acclaimed wildlife film-maker. Born in London in 1937, he moved to Kenya as a young boy and after leaving school at sixteen soon found himself behind the camera. He and his wife Joan Thorpe produced many award-winning wildlife films including 'Baobab: Portrait of a Tree'; 'Safari by Balloon'; 'The Year of the Wildebeest' and 'Castles in Clay', which was nominated for an Oscar. His memoir, 'Ivory, Apes & Peacocks - Animals, Adventure and Discovery in the wild places of Africa ' is published by Chatto & Windus.
Psychologist Dr Pamela Stephenson is a former actress and comedian. In her autobiography, 'The Varnished Untruth' she tells of her complicated childhood in Australia, before making a move to London, and being a woman in a man's world on 'Not The 9 O'Clock News'. 'The Varnished Untruth' is published by Simon and Schuster.
Barbara Hulanicki OBE is a fashion designer who established the boutique Biba with her husband. With its cutting edge yet affordable fashion, the Biba store and label transformed the High Street shopping experience in the 1960s and 70s. Young working women shopped alongside models and celebrities including Sonny and Cher, Yoko Ono, Mick Jagger, Twiggy and Brigitte Bardot. An exhibition celebrating her work, 'Biba and Beyond' is at the Brighton Museum and Art Gallery.
Producer: Paula McGinley.
Last on